Casio Edifice announces the ERA-300 timepiece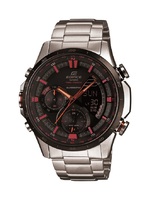 Hot from the paddocks of Formula 1 comes the latest premium men's timepiece' from Casio Edifice; the ERA-300. Unashamedly inspired by the watchmaker's long association with four-time F1 Champions, Infiniti Red Bull Racing, the ERA-300 sports a design elegance and functionality that reach far beyond its price point.
Available from Spring 2014, the all-new ERA-300 is aimed squarely at those who crave speed and precision. With Casio's own peerless heritage as a global leader in watch-making, combined with the two-way technology crossover shared with IRBR, the ERA-300 packs an array of innovative and useful functions that make it an invaluable global travel companion – as you might expect from a team that travels the world for a living.
World Time Technology functionality keeps the watch to split-second accuracy, no matter where the road (or plane!) may take you, whereas the inbuilt compass allows the Red Bull technicians to double check wind vector directions on circuit in a moment – essential when making those final fine weather-dependent set-up changes.
The design language of motorsport is also evident in the stunning appearance of this watch. When illuminated, the ERA-300's moody blacked-out bezel evokes the smart, functional visage of a racecar cockpit, with the high-visibility red and orange hands being clearly inspired by timeless tachometer designs. The fully integrated auto calendar also tips its stylish hat to the classic timing displays found at all international race tracks, while the stopwatch, accurate to 1/100th of a second, allows the all-important business of timing to be precisely recorded.
The art of fine watch-making is identical to the art of preparing a winning car – the devil is in the detail. True to that maxim, the ERA-300 also feature exquisitely machined stainless steel adjustment buttons around its periphery, combined with a rugged and chunky bracelet design that reflects its exceptional build quality, this is a watch that looks at much at home at the circuit as it does on the red carpet.
Typifying the latest designs from Casio Edifice, the ERA-300 is a highly technical timepiece that houses a heart of detailed engineering precision in a classically elegant exterior. Fashion and function in one technically perfect package.
For more detail on the ERA-300, or any Edifice timepiece, visit edifice-watches.co.uk.