Hong Kong's spectacular Dragon Boat Carnival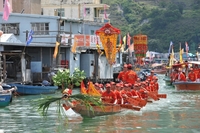 In true Hong Kong style, an ancient Chinese festival has become one of the world's greatest parties! From 6 June, boats, beers and cheers will draw hundreds of thousands of revellers and spectators to The Dragon Boat Carnival at Victoria Harbour.
The wider Dragon Boat Festival, also known as the Tuen Ng Festival (2 June), commemorates the death of Qu Yuan, a Chinese National Hero. In a protest against corrupt rulers, Qu drowned himself in the Mi Lo River. To scare away fish from eating his body, the townspeople beat drums and threw glutinous rice dumplings called zongzi into the water. Today, this event is remembered by Chinese people around the world, who eat zongzi and go swimming or at least dip their hands in rivers or lakes.
With an estimated 30,000 active paddlers, Dragon Boat Racing is extremely popular in Hong Kong and 1000s' of the world's top athletes will battle it out in the Hong Kong International Dragon Boat Races (6- 8 June) as part of this year's Carnival. The spectacle of ornately carved and painted traditional Dragon Boats racing against the backdrop of the iconic skyline is uniquely Hong Kong, the perfect, thrilling, balance of the very old and the very new.
The explosion of worldwide interest in dragon boat racing has transformed this ancient Chinese folk ritual into a modern international sport but spectators needn't feel left out as the fun spills on to dry land too. Athletes and spectators can continue on the festivities at the San Miguel BeerFest, which keeps harbour side crowds entertained with live entertainment and, of course, ice-cold beer.
Outside of the Dragon Boat Carnival, celebrations can be found across Hong Kong as communities hold locally organised dragon boat races, each unique to their area. Stanley Beach (2 June) sees some of the largest dragon boat races, attracting crowds in their thousands while the fishing village of Tai O (2 June) puts on a water parade in which the temple deities are carried in colourfully decorated sampans pulled naturally by dragon boats.
The Hong Kong Dragon Boat festivities are a heady mix of ancient Chinese tradition, competitive sport and parties. Head to the stunning Victoria Harbour to be in the middle of the action or visit one of the fishing villages for an authentic experience.
For further information about visiting Hong Kong, visit discoverhongkong.com.