Timber frame technology knocks thousands off energy bills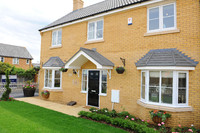 Householders could save thousands of pounds in energy bills if they choose to buy a new home built using up-to-the-minute timber frame technology.
Buying a new-build rather than a traditional Victorian home can already save £1,300 on annual gas and electricity bills, according to the NHBC, but using Space4 technology can make the home even more energy efficient.
Charles Church East Midlands is using Space4 technology at Meadow View in Oundle to build homes, which offer extra energy savings over traditionally-built properties.
Cheryl Bassett, sales and marketing director for Charles Church East Midlands, said: "Timber is used around the UK as the number one form of construction. However, Space4 also provides precision factory made and factory insulated frames which are assembled on site.
"It helps to produce an energy efficient house and can cut bills by as much as 50 per cent over other conventional methods.
"The environment also benefits, as wood grows naturally and is a renewable material. Our view is that new homes must be environmentally efficient throughout the whole process; from design to construction and occupancy.
"At Charles Church, we know that the homes we build will be lived in for many years to come, so we build them to be desirable, sustainable and comfortable; now and in the future."
Cheryl added: "New homes offer huge cost savings to households, both annually and over the lifetime of a mortgage.
"And while energy efficiency is only one of the advantages of buying a new build property, the potential to save such a large amount of money per year could mean the difference between buying a small home and your forever home."
Meadow View has three, four and five-bedroom homes available in a variety of styles to suit a wide cross-section of buyers, including growing families, professional couples and downsizers.
Oundle is known for its ancient buildings, alleyways, age-old inns and has one of the finest churches in the Midlands. It is a charming county town with excellent commuter links with Corby Train Station nearby and the A1 eight miles away and the A14 five miles away.