SKYACTIV technology models puts Mazda fleet sales in the fast lane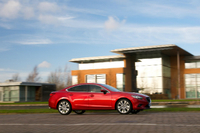 Mazda more than doubled fleet sales in 2013/14 and it is seeking further growth in core corporate registrations in 2014/15.
In the 12 months ending March 31, 2014, Mazda fleet sales accounted for 24.1 percent of 34,561 total registrations compared with 15.7 percent of volume in the preceding 12-month period as Mazda Motors UK saw overall sales increase by 9,070 units.
Fleet registrations increased 107 percent from 4,007 in 2012/13 to 8,319 in 2013/14 as fleet managers and company car drivers turned to Mazda in pursuit of low benefit-in-kind tax and first class economy delivered by the brand's breakthrough SKYACTIV technology featured in the Mazda CX-5, Mazda6 and all-new Mazda3.
Mazda's core fleet sales, which exclude daily rental, Motability and captive business, increased 127 percent year-on-year, with the multi award-winning Mazda6 making the most significant contribution to overall growth, rising a massive 211 percent from 2012/13.
During the 12 months under review Mazda Contract Hire, offered by every UK dealer, saw record levels of business with registrations up 214 percent year-on-year beating the previous best set seven years ago by 51 percent.
Mazda Head of Fleet Steve Tomlinson said the rapid rise in fleet demand, and particularly core fleet registrations, was due to a combination of factors including:
Fleet decision-makers and company car drivers being driven to the brand as a consequence of emission-cutting, fuel-saving SKYACTIV technology powering Mazda's key company cars - the all-new Mazda3, Mazda6 and Mazda CX-5.
Increased franchise dealer engagement with local businesses across Mazda's 136-strong network
Expansion of Mazda's fleet specialist dealer network from four at the start of 2013/14 to six during the year.
January 2014's launch of the all-new Mazda3 coupled with a plan to reduce sales into non-core channels with sales to end-user fleets in 2014/15 means that overall fleet volumes will be broadly unchanged at about 8,300 units.
Tomlinson said: "In 2014/15 we anticipate total fleet sales to remain at a similar level to 2013/14. However, Mazda's core fleet sales to end-user fleets are expected to rise as more fleet managers and company car drivers recognise the strength of our all-new Mazda3, Mazda6 and Mazda CX-5 models.
"We anticipate that core fleet sales will rise by around 30 percent in 2014/15 as we maximise the potential of SKYACTIV technology and the increasing opportunities we are seeing with new and existing customers.
He added: "In addition, apart from our six Fleet Specialist Dealers, many of our other franchise dealers have recognised that sales to fleets and small businesses are critical to their overall success.
"The Mazda franchise dealer network is open for fleet business and more are realising that corporate sales are a key component of their sales mix with Mazda Contract Hire an important facet within their overall offering."
Andrew Marshall, group franchise manager at Arnold Clark, one of Mazda's Fleet Specialist Dealers, said 2013/14 had been a "transformational year" for Mazda as corporate sales traction initially with SKYACTIV powered Mazda CX-5 and Mazda6 gathered pace.
In 2013/14 the group saw Mazda corporate demand double and Marshall anticipates a further 50-70 percent rise in volumes this year boosted by the introduction of the SKYACTIV technology powered all-new Mazda3 range.
He said: "SKYACTIV technology is driving demand for Mazda cars. Momentum is really building as fleet managers and company car drivers recognise its attributes and the compelling proposition of low emissions and excellent fuel economy as well as a stylish car with great performance.
"The complete package whether looking at the all-new Mazda3, Mazda6 or Mazda CX-5 is phenomenal and is compelling versus German brands, plus has great stand out over volume brands.
"We have started 2014/15 at a cracking pace and I think it will be a record breaking year for the business in terms of Mazda fleet sales."