Housebuilder invests over £80,000 in local area as part of Cranbrook development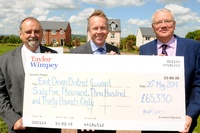 Leading housebuilder Taylor Wimpey has recently paid more than £80,000 to the local community as part of its new Cranbrook development near Exeter.
This brand new community of eco-friendly homes enjoys a superb location just eight miles from Exeter and is the first new town of its kind in Devon.
Taylor Wimpey has recently contributed £59,330 towards a play area, while other payments have also included nearly £6,000 towards a community development worker at Cranbrook and £22,231 towards youth facilities, including a temporary youth centre and a youth worker.
The investment forms part of the planning agreement with the local authority which will ultimately see community funding totalling around £12.5 million provided by the housebuilder during the lifetime of the development.
Peter Bowden, Local District and County Council Member for Broadclyst and Whimple said "I am delighted to see that agreements designed to forward the interests and facilities for residents of Cranbrook are being honoured. These contributions are made in the interests of the community and add considerable benefit to all residents in more ways than one. On behalf of us all I thank Taylor Wimpey for this contribution. "
Janine Copleston, Regional Sales and Marketing Director for Taylor Wimpey, says: "This investment reflects our belief that building new homes is about more than just providing high-quality properties for people to live in – it is about giving homebuyers the chance to be part of a thriving and sustainable community.
"Our contributions towards facilities, services and infrastructure will benefit residents in the area now and in the future, and this is part of Taylor Wimpey's ongoing commitment to the communities where we build."
There's a choice of homes available to buy now at Cranbrook, including two-bedroom homes from £157,995, three-bedroom designs from £249,995 and four-bedroom properties from £289,995.
Parents will appreciate a choice of new primary and secondary schools in the area, while a range of community facilities, including a health centre and a central shopping street, are being created as part of this new development.
For commuters, junction 29 of the M5 is just minutes away for journeys to Exeter and Bristol, while a new railway station is due to open in 2015 and will offer direct services to London Waterloo.
House-hunters can find out more about the new homes available to buy now at Cranbrook by visiting the Sales Information Centre, located off London Road, Exeter, Devon, EX5 2DY, and open daily from 11am to 5pm. Alternatively, visit taylorwimpey.co.uk.