Denmark's Randers - a Star location for a short break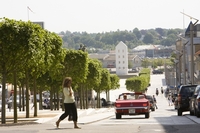 Perfectly combining the best of nature with a mix of historic and 'star' attractions, Denmark's sixth largest city Randers is predicted to become the hot new short-break destination for British travellers this year thanks to its easy access from the UK with a simple 45-minute transfer from Aarhus Airport in East Jutland.
With the river Gudenaen flowing through its heart, Randers city centre enchants with narrow medieval streets, picturesque squares and cosy half-timbered buildings. Whilst on its outskirts, the great outdoors beacons with biking, hiking, kayaking and some of the best salmon fishing in Europe in the surrounding lakes and rivers.
At the beginning of any stay, an excellent way to acquaint oneself with the city is by walking 'The Star Route' - a 2.5 kilometre self-guided tour that starts at the central town square Radhustorvet (Star 1). Giving a brief overview of the 18th century Town Hall, Middle Ages merchant's premises and the former Jewish Quarter, it then follows 15 plaques which offer a fascinating insight into the town, its attractions, historic buildings and landmarks as well as sharing a number of amusing anecdotes.
For example, how else would you learn that the 18th century glove makers Randers Handsker (Star 6), on the lovely pedestrianised street Brodregade, hold a royal warrant and are the oldest glove manufacturer in Northern Europe - not to mention a favourite with the royals. Allegedly French Queen Marie Antoinette was so enamoured with her gloves, being so 'sweetly scented and soft on the hands' that she even slept with hers on.
Providing a more in-depth overview of the area the Museum Ostjylland (Museum of Cultural History) is one of the oldest and biggest local museums in Denmark with displays spanning over 100,000 years (Star 4). Highlights include an Iron Age bog woman; the runic stone from Mejlby; and the Buhl's Apartment – an art collector's home from the early 1900's that was donated to the museum and contains a collection of 334 works of art, including 48 etchings by Rembrandt.
Art lovers might also enjoy the Randers Kunstmuseum (Randers Art Museum) (Star 4) which houses an extensive collection of Danish and International art from the 1800s to the present day including works by Hammershoi, Andy Warhol and Yoko Ono. For something more unusual head to the GAIA Museum Outsider Art or visit the 'Gauguin' banqueting room at Hotel Randers, which was decorated by Jean Rene Gauguin (Paul Gauguin's son) in 1956, five years before he died. The impressive floor to ceiling murals in yellow and light blues hues are typical Scandinavian colours of this period and there's also a collection of his ceramic figures.
A more quirky attraction on the walk has to be Graceland Randers, a copy of Elvis Presley's home in Memphis, Tennessee, that boasts one of the largest collections of Elvis memorabilia in the world, gathered mainly by one local Randers resident (Star 3). In addition to the museum, Graceland Randers also houses a cinema for watching Elvis documentaries, Highway 51 Diner for slap up Southern fare and is one of the city's many music venues.
For something a little unexpected, follow the river towpath to Randers Rainforest (Star 10). Transported to three different rainforest continents under separate temperature controlled giant domes, visitors can get up close to over 200 species of animal and 450 types of plants on an enormous tropical rainforest safari though Africa, Asia and South America.
Having spent a day or so discovering the city opt for a scenic drive to appreciate the full beauty of the area.
For example, head south and discover one of the most romantic castles in Denmark - Clausholm Slot. Built in the 1690's, this stunning moated white baroque spectacle has been exquisitely restored and includes equally impressive grounds.
Continue to Gammel Estrup Manor House to get a taste of Renaissance history before crossing the Randers Fjord at Mellerup for a delightful ferry ride on the way to Hvidsten Kro. Built in 1634, this inn was a centre for one of the most successful resistance groups during WWII and is still owned by the same family who continue to serve recipes from the 1940 making it a fascinating stop for lunch.
With a bit more time, include the award winning 5-star attraction Den Gamle By (The Old Town) on the outskirts of Aarhus, an extraordinary openair museum and just half an hour from Randers. Comprising a collection of original historic buildings from the 1880s, 1920s and 1970s, it offers a complete walk through time with actors playing out various scenarios from the different periods bringing this amazing collection to life.
Where to stay
Staying in Randers also offers its own step back in time. Hotel Randers, one of the oldest hotels outside Copenhagen dates back to 1856, and boasts a star-studded collection of previous guests including the Danish royal family, Josephine Baker, Victor Borge and Ringo Starr. Elaborately decorated with lavish antiques and many period features, it offers an 'olde worlde' stay with excellent modern dining in its contrastingly contemporary Cafe Mathisen. (From £105 (965dkk)/double room with breakfast).
Or time machine forward to the 60's and 70's to when life was about groovy music, shag pile carpets and colourful textiles at RetroWorld. Situated in Lerbjerg Bakker, about 10km from Randers, this quirky B&B has seven retro styled rooms and is packed with the most amazing collection of pop era paraphernalia. (From £50 (450dkk)/double room/night).
Taking advantage of the excellent fishing and award-winning gourmet cooking in the area, keen anglers and gastronomes should check in to Hotel Fru Larsen. Under the guidance of star chef Tommy Friis, guests can catch their own supper (salmon, trout, pike and perch) in the nearby Lilleaen stream and have it transformed into a slice of inspirational Nordic cuisine. (From £125 (1149dkk)/double room/night, Gourmet Breaks including B&B, 5 course menu with champagne and appetizers as well as cake and coffee, from £137 (1249dkk)/person/night).
Fladro Kro also offers gourmet stays. Dating back to 1739, it has continued its tradition of using fresh local ingredients, baking its own bread and smoking its own cheese and fish as it did when famous Danish author Hans Christian Andersen visited. (From £109 (995dkk)/double/night).
With plenty of restaurants and cafes dotted throughout Randers and the surrounding countryside, visitors are never short of great places to eat or an idyllic spot to have a coffee and watch the world go by. From romantic candlelit dining at Ostergade 1 to modern Danish cuisine in an impressive historic setting at Niels Ebbesens Spisehus and the option of more casual European styled food at Tanjas Delicafe, there is something to suit all palates and pockets.
With a plethora to see and do, short and weekend breaks in Randers offer a star-studded mix of culture and history interspersed with great food and the option of exploring the countryside either by foot, car, bike or simply grabbing a canoe.
Getting there
Under two hours flying time from the UK, Ryanair (ryanair.com) offers direct daily flights from Stansted to Aarhus Airport with connecting buses services from 45 minutes.
For more general information on Denmark go to visitdenmark.co.uk.
For more information on the Star Route self-guided walking tour in Randers, see visitranders.com.