New housing developments provide a boost to East Midlands economy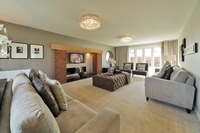 A number of local housing development schemes now under construction by Taylor Wimpey East Midlands are providing a major boost to the region's economy – helping to sustain local employment and bringing new jobs, while also encouraging regional spending and bringing investment in infrastructure to the area.
During the first quarter of this year, the Leicester-based housebuilder moved 126 customers and families into their new homes, 14 of which were affordable properties.
In addition to these completed homes, the company has also stepped up production on all of its developments to meet the demand for much-needed new homes, following growing confidence levels and an increased number of reservations compared to this time last year.
The company believes that the construction of these homes and the increase in its work in progress has helped create more than 3,600 jobs in the area – including 423 full-time year-long positions in construction work and 1,282 temporary year-long construction jobs, while a further 1,936 jobs were supported indirectly by the building work.
The company uses local subcontractors and suppliers wherever possible, most of which have worked in partnership with Taylor Wimpey for more than twenty years.
Money spent by buyers on their new Taylor Wimpey homes will give a further lift to the region's economy, as they take the blank canvas of a brand new house to create the home of their dreams.
This additional spending on items such as soft furnishings, new furniture, garden supplies and household goods further supports the equivalent of another 20 full-time jobs locally, with the new homeowners estimated to make a gross spend of around £2.7m in the first few years of settling into their new homes.
The new homes have also brought funding support to local authorities across the East Midlands, with the New Homes Bonus payments made by the Government to councils where new Taylor Wimpey homes are currently being built set to total £819,420 over six years.
A further £346,000 has also been invested by the housebuilder in local infrastructure through Section 106 planning contributions in the first quarter alone.
Dominic Harman, Managing Director for Taylor Wimpey East Midlands, says: "It really is encouraging to see our customers having better access to affordable mortgages, which together with Help to Buy has really improved the local housing market, with an increased number of visitors to all of our developments, which in turn has improved our reservations.
"This gives everyone added confidence to invest in all of our projects as this confidence grows.
"As an established local housebuilder, it is so pleasing to see that our developments are bringing real economic growth, jobs and investment to the East Midlands.
"We are committed to continuing to build high-quality new housing across the whole of the East Midlands, with all the economic benefits associated with our own investment, and we are proud of the help we are giving to the existing and new communities where we build our homes."
Taylor Wimpey East Midlands is currently building new homes across Cambridgeshire, Derbyshire, Leicestershire, Lincolnshire, Northamptonshire and Nottinghamshire.
For more information, visit taylorwimpey.co.uk.