Honda Civic Type R owners experience at WTCC, Spa Circuit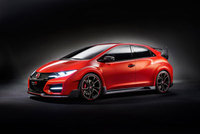 Honda is hosting a special Civic Type R owners experience at the seventh round of the World Touring Car Championship at Spa Circuit Francorchamps on 20-22 June 2014. Civic Type R owners from across Europe are invited to join Honda at this exciting event where they will have the opportunity to see all the WTCC racing, benefit from VIP hospitality, meet Castrol Honda Racing Team drivers - FIA WTCC Champion, Gabriele Tarquini and Tiago Monteiro, as well as Norbert Michelisz and Mehdi Bennani and see the new Civic Type R Concept in the metal.

Additionally, they will get the chance of a lifetime to drive their own car on an exclusive parade lap (1) around the world famous Spa Circuit on the Saturday afternoon. Prices for this experience stand at £32.51 (€40) for the owner of the car and an additional £57 (€70) for each additional adult travelling in the car. Children under 12 years of age are free.

The costs include:
Meeting the WTCC Honda Racing Team drivers
VIP access to the race circuit
VIP parking
VIP access to Honda Civic Type R Owners' area
Refreshments on Saturday
Refreshments & lunch on Sunday
The ultimate driving experience on parade track laps session (with safety cars)
Viewing the new Honda Civic Type R Concept car
Evening entertainment on Saturday
Please note the costs do not include accommodation and getting to the Spa circuit.

Interested Civic Type R owners will have to be quick as spaces are limited to 200 cars. Owners will need to register their attendance at typerspa.eu which also details further information on the experience, including accommodation options.

Honda will be showcasing the new Honda Civic Type R Concept model throughout the weekend. This Concept model points to the exterior styling direction of the highly-anticipated new Type R production model that will be launched in Europe in 2015.

Described by the design team as a 'racing car for the road' rather than a high performance version of a road car, the new Type R looks set to signal a new era for the marque – with the most extreme Civic Type R yet. The sleek and aerodynamic profile reflects a car designed for performance whilst maintaining the look of a road car and the distinctive character of Type R.

Honda will be lining up the concept model with the current WTCC Honda Civic racing cars to show how the cars have influenced the design of the new Civic Type R Concept model.

To follow all the excitement around the event, keep an eye on #WTCCSPA on social media, and for all Type R updates check out #TypeR and follow @honda_uk on Twitter and hondauk on Facebook.