Enjoy an action-packed summer in Shakespeare's England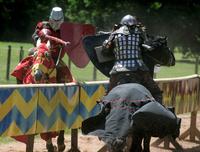 Enjoy an action-packed summer from the 19 July – 31 August in Shakespeare's England with a host of special activities and events for all the family. Watch the excitement of jousting at Warwick and Kenilworth Castles, enjoy a teddy bear's picnic and tractor pulled trailer rides, watch an outdoor theatre performance at some of the area's stunning stately homes or simply enjoy alfresco dining.
Throughout August the Royal Shakespeare Company brings everyone 'Stratford-on-Sea' on the Bancroft Terrace outside the Royal Shakespeare Theatre. Enjoy the weather with seaside themed events and activities including live music and Punch and Judy shows.
Take part in 44 fun-filled activities at each of Shakespeare's family homes. Get cracking and break the codes at Shakespeare's Birthplace. Solve the perplexing puzzles and reveal more about Shakespeare and his Tudor life. Turn detective and track down whodunnit in the fun trail at Hall's Croft. Then enter the Picture Perfect competition by drawing a picture of what you think Shakespeare's daughter Susanna might have looked like.
Jousting returns to Warwick Castle this summer and is even bigger and better than ever before. As part of the Castle's 1,100th anniversary celebrations, every attraction has been reimagined, including the hair-raising horseback battles that visitors can watch from the grassy banks of the River Avon at 1pm and 3.30pm. The Horrible Histories Foul Fayres continues until 31 August and Mediaeval Glamping is available until 6 September.
See history bought to life at Kenilworth Castle and meet the costumed Queen Elizabeth I on 16 July & 20 August. Watch 'Elizabeth' being dressed, from undergarments to the finishing touches. The Grand Medieval Joust takes place from 12 - 13 July when magnificent knights on horseback clash at Medieval England's greatest event. Soak up the sights, sounds and smells of an authentic joust and live life as it was 600 years ago.
Enjoy an outdoor theatre performance of Peter Pan at Charlecote Park on the 19 July at 6:30pm. Bring a chair and picnic, whilst being entertained in this beautiful setting. Pride & Prejudice will also be performed on 9 August and Macbeth on 28 August. Children can enjoy a tractor pulled trailer ride through the park on 22 July & 5 & 19 August. Take part in a walk through the grounds at dusk looking for bats on 26 July at 9pm and 30 August at 8pm.
Take in an art exhibition at Upton House "Shell and the art of advertising". Lord Bearstead, who owned Upton in the 1930s, was the Director of Shell Oil. His father and uncle founded the company which was how the family became so wealthy. During this period, Shell ran an advertising campaign: These people prefer Shell which included a series of posters featuring artwork by contemporary artists. The exhibition features some of these original artworks.
Wander around a series of interactive outdoor installations at Packwood House. The Packwood Follies includes a giant, four poster, outdoor bed and a cabin hidden in the woods. Visit Hanbury Hall and enjoy an outdoor theatre performance of 'Pride and Prejudice' on Sunday 27 July at 6.30pm. Bring your favourite teddy and take part in teddy themed activities at the Teddy Bears' Picnic on Sunday 20 July.
At Hill Close Gardens children can learn how to grow plants at the Flowerpot Fun workshop on 22 July and on 5 August bring in old clothes to make a scarecrow. All the family are invited to the Teddy Bear's Picnic on 20 August at 2pm. On Tuesday 29 July watch a performance of Pride and Prejudice at 7pm. Quiche, cake and wine will be on sale when the gates open at 5:30pm. On 9 & 10 August celebrate the Centenary of World War I with displays about life on the home front and a special commemorative garden.
Experience the spectacular Battle Proms concert at Ragley on Saturday 16 August. This year the mounted skill-at-arms display will be carried out in WW1 regalia to mark the 100th anniversary of the First World War. The music begins at 7.30pm with classical favourites performed by the 'New English Concert Orchestra' and hosted by BBC presenter Pam Rhodes. Carolyn Grace in the legendary Grace Spitfire will perform a choreographed aerial display to the concert's opening piece and the evening ends in dazzling fireworks.
Watch Romeo and Juliet at Batsford Arboretum on 10 July. The Lord Chamberlain's Men specialise in performing Shakespeare as he intended using beautiful settings to add to the atmosphere. Bring a picnic, settle down and enjoy theatre in a magical venue. Join madcap theatre group The Pantaloons who put their own spin on the History of Britain on Saturday 2 August. This historically hysterical show is packed with songs, sketches and silliness.
Enjoy a night of theatre watching Jane Austen's Sense and Sensibility at Stoneleigh Abbey on 21, 22 & 23 July. On Sunday 27 July, commemorate the Centenary of the First World War with the launch of the exhibition 'Anxious to do Something - the Leigh Family of Stoneleigh Abbey and their Contribution to the War Effort'. Enjoy talks by authors, view art and poetry from local schools or explore an authentic tent encampment. On 7 & 13 August visit the Abbey at night when a costumed guide will explain how Jane Austen's visit to the Abbey in 1806 influenced her written works. Afterwards enjoy a glass of wine and canapés.
Watch a production of The Secret Garden at the Playbox Theatre. The Broadway hit musical adaptation of Frances Hodgson Burnett's 1909 children's novel is memorable, moving and hugely entertaining. Performances take place on the 27, 28, 29, 30 & 31 August.
The Heritage Motor Centre celebrates its 21st birthday this year with lots of family activities based around the new exhibition '21 Years, 21 Icons'. Discover a different icon every week, with automotive sessions running Monday to Thursday throughout the six weeks. Get 'hands on' on Mondays, join in with 'Lego Technic Tuesdays', become an engineer on 'Wheelie Lego Wednesdays' and get creative with 'Auto Crafty Thursdays'.
Celebrate 'Best of British' at Bicester Village and lose yourself in its 'Day trip to Chic' campaign. The fifth annual British Designers' Collective pop-up boutique will show off the work of the hottest talent on the British fashion scene and at the Royal Academy of Art. Find the best of the world's fashion capitals in one place with savings of up to 60%. Bicester Village has everything from Temperley London to Vivienne Westwood.
The Arter in Stratford-upon-Avon, which sells unique gifts, crafted by talented local makers is taking part in Warwickshire Open Studios from 28 June - 13 July. Meet the artists behind the creations plus many of the makers will have their studios open to view. See the work of a Jewellery designer who will have a limited edition collection at The Arter for those 2 weeks.
Young pirates at Tudor World in Stratford-upon-Avon will be given a treasure map to find contraband and search for their quarry using torches to explore the exhibits; try on hats or write a secret message using a quill. On selected days, visitors can see pirate shows in the theatre area where they can learn to be a pirate and perhaps walk the plank!
The MAD (Mechanical Art & Design) Museum is inviting photographers, both amateur and professional, to submit their best images taken at The MAD Museum. Whether its entire exhibits, minute details, people in the museum or even of Barney the MAD dog, all interpretations are welcome! All winners and runners-up will have their images exhibited in the museum and win a goodie bag of prizes.
Attend The Arden Hotel summer party with Shakespeare's Hospice on Sunday 27 July from 12 – 6pm. Watch the world go by before tucking into a hog roast and champagne.
The Holiday Inn in Stratford-upon-Avon is hosting a party in aid of the Guide Dogs and Shakespeare Puppies Appeal on Friday 1 August. Enjoy a 3-course dinner, live entertainment, raffle, auction and disco. Listen to a stunning acoustic performance from a local artist on 24 August from 7pm for free on the heated terrace.
Visit the new Clock Tower Garden for alfresco dining and cocktails at The Stratford and enjoy 20% off your bill. Available from 11am - 9pm every day of the week.
With so much family friendly activity happening, Shakespeare's England is the place to visit this summer to keep the whole family entertained!
For more suggestions and family friendly accommodation in Shakespeare's England visit shakespeares-england.co.uk.