It's business as usual for trekkers in Nepal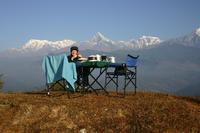 Trekking and walking holidays that are accompanied by Sherpas in Nepal are continuing as normal, despite the cancellation of all attempts to climb Mount Everest following the recent tragedy.
Comments Mark Wright, Managing Director of Walks Worldwide: "Stories in the media have created the impression that all Sherpa-accompanied trips in Nepal are off limits because of the cancellation of organised attempts at the summit.
"This is an unfortunate situation because there are many Sherpas who are totally dependent on tourism to provide for their families; all our trekking trips in Nepal are running as normal including Everest Base Camp."
Walks Worldwide offers 11 different options in Nepal from the 11-day Royal Trek - which is ideal as a soft option for the less experienced – to the 17-day Everest Base Camp which is graded 'demanding' and is suitable for more experienced trekkers (and which should be on every serious walker's bucket list!).
The Royal Trek is so called because in the 1980's Price Charles, visited Nepal and undertook a short trek in the hills above the lakeside resort of Pokhara. The trip is graded as Easy/Moderate and is about as easy as it gets in the Himalaya – but the views are most definitely not compromised with three peaks at over 8000m.
From a base at Pokhara there will also be the opportunity to witness the sunrise panorama from Sarangkot hill. The trip costs from £1930 pp which includes flights, eight nights' accommodation (hotels/camping), domestic flights, Sherpa porters, all transportation, most meals, camping equipment and a guide.
The 17-day Everest Base Camp trip involves walking at a maximum altitude of 5600m with highlights including the tumbling Khumbu Icefall that leads to the south Col and, of course, the breathtaking sight of Everest from the summit of Kala Patar.
The trip costs from £2195 pp which includes flights, land transportation, 14-nights' accommodation, most meals, Sherpa porters and a guide.
All Walks Worldwide trips are available 'land only' for those who prefer to make their own flight arrangements.
For more information, visit walksworldwide.com.