Sofitel open Legend People's Grand Hotel Xian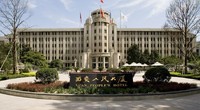 Sofitel Luxury Hotels has announced that discerning travellers can now Live the Legend in China when they stay at Sofitel Legend People's Grand Hotel Xian. With this recent addition, Sofitel is now managing a total of 19 properties in Greater China.
Seven thousand years of history and tradition surround this heritage building which has been lovingly transformed into the first hotel in Greater China to join Sofitel's exclusive ultra-luxe Legend Collection, and the fifth Sofitel Legend in the world. The Metropole Hanoi is the first hotel to have received this distinction to become the Sofitel Legend Metropole Hanoi in July 2009. In 2011, The Grand Amsterdam (The Netherlands) and the mythical Old Cataract Aswan (Egypt) followed in its footsteps. The Sofitel Legend Cartagena Santa Clara (Colombia) was inaugurated in December 2012.
Opened in 1953, as the State Guesthouse, the hotel was designed by Hong Qing, Chief Architect of the Northwest Institute of Architectural Design. He skilfully sited the building in an extensive garden, formerly part of the grounds of an imperial palace. Hong used a number of French touches, including fleur-de-lis (stylized lily) as a recurring motif.
Lofty ceilings and generous proportions in the 71 rooms and suites convey a rare feeling of time and place. Guests will enjoy all the sophisticated French pampering touches associated with Sofitel such as Hermès toiletries and French-designed floral arrangements. Additional features include personalized butler service from the moment of arrival, an extensive garden setting, private health club, swimming pool and spa, an authentic Italian restaurant, an exclusive top-floor Louis XIII Bar and a private museum. All-weather links provide easy access to the neighbouring Convention Centre and Grand Theatre.
The People's Grand Hotel Xian is part of Renmin Square, an extensive hotel complex (all under Accor management) within a 40,000 m² landscaped garden. Ideally located inside the Ming Dynasty city walls at the heart of historic Xian, the hotel is only 15 minutes walk to the world's first museum, the Forest of Steles, or to the colourful Moslem quarter where traders have flourished in the spice-laden air for many centuries.
"It is very fitting that the first Legend hotel in Accor China's portfolio should be located in the beautiful heart of this timeless city that is filled with history," said Michael Issenberg, Chairman and Chief Operating Officer for Accor Asia Pacific. "Following extensive renovation and preparation, we are so pleased to share the exceptional service and traditional Chinese hospitality of this Sofitel Legend in Xian, in a truly legendary setting.
Acknowledged as the world's finest city in its heyday, Xian was China's capital through 13 dynasties. Today it is a vibrant centre for education, high technology and tourism. Long before the discovery of the Terracotta Army in 1974, Xian was already an important cultural destination for visitors eager to experience the picturesque city wall and such attractions as the Big Goose Pagoda, repository of sacred manuscripts and other items brought from India by Xuan Zang when he introduced Buddhism to China.
Since its opening in 1953, The People's Grand Hotel Xian has played a special role in the city's history: this is where visiting Chinese leaders, including the late Premier Zhou Enlai and Marshal Chen Yi stayed, as did former premier Zhu Rongji. The guestbook has been signed by heads of state including French President François Mitterrand, royalty from Europe and Asia, captains of industry and international VIPs like Henry Kissinger.
Sofitel Legend is a seal, an exclusive club of timeless establishments — many of them centuries-old and listed as national heritage — legendary places rich with history, destinations in themselves, set like jewels in the cities or landscapes that surround them. Every Sofitel Legend is a unique gem, a guaranteed seat on a journey through luxury and history, where legend and reality become one. While each hotel has an individual personality, they are all Legendary Places, hosting Legendary People, creating Legendary Stories.
For more information, visit sofitel.com.