Fiat offers grown-ups a summer vacation during June sales event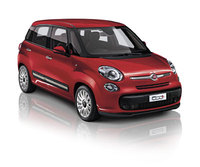 Kids aren't the only ones who get to enjoy a long vacation this summer. Grown-ups also get a nice breather during the FIAT June Sales Event which is offering a zero deposit finance package with a three-month repayment holiday on any FIAT 500L, 500L MPW or 500L Trekking model.

For a strictly limited period of three weeks from June 3 to June 24, FIAT is introducing additional deposit contribution for finance customers across the FIAT 500L range, with an extra £900 deposit contribution available on petrol models and an additional £600 on diesel versions. In the case of FIAT 500L 1.4 95hp Pop Star, for example, this initiative is in addition to the £500 savings already on offer, resulting in a total deposit contribution to the customer of £1,400. With no deposit and no repayments for the first three months, the remaining 44 repayments would be just £219 (Representative 2.0% APR) with an optional final repayment of £4,703.

Alternatively, customers also have the option of forgoing the repayment holiday and instead lowering their monthly payments, resulting in a deposit of just £199 and 47 repayments of £199 for the FIAT 500L 1.4 Pop Star (plus £4,703 optional final repayment).

The customers savings on offer during the FIAT June sales event are available on many FIAT 500L models and are open to all retail customers subject to certain terms and conditions.

Kate McLaren, Senior Brand Manager FIAT UK, commented, "The FIAT 500L is a car designed around the family, so while the children are enjoying time off from school we're also offering parents the opportunity to take a repayment vacation, putting a little more cash back in their pockets to put towards any number of seasonal activities such as summer camps; family outings; the annual vacation or back-to-school expenses. Those spare funds could even be put towards a new TV in time for the World Cup!"

The FIAT 500L is the segment leader across Europe and the range has grown significantly since its launch in late 2012 to include the rugged 500L Trekking and roomy 500L MPW. In keeping with the fashionable ethos of its little sibling, the FIAT 500L range recently added the cool FIAT 500L Beats Edition™ to the line-up, as well as two new flagship engines – the 120hp 1.4-litre turbo petrol and a new 120hp 1.6-litre MultiJet II turbo diesel engine.