Pimms o'clock at Howton Rise at The Fairways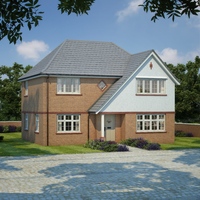 Next Saturday (14th June) award winning house builder Redrow is inviting home buyers to enjoy Pimms on the lawn to celebrate the launch of the new phase of its latest development, Howton Rise at The Fairways in Newton Abbot.
The site, which has been introduced following the success of The Fairways, will feature a selection of stunning three and four bedroom homes from the New Heritage Collection, including two stylish new four bedroom house-types, the Shaftesbury and the Marlow.
Pimms on the lawn, which will take place between 11am – 4pm, will provide house hunters with the chance to view the large 3D model of the development which gives a vivid impression of how Howton Rise will look when completed, with scaled-down realistic representations of all of the homes. What's more, the model also features the surrounding landscape, including trees, park areas and open space to give visitors a real feel for the scheme.
Emma Solman area sales manager for Redrow (South West) said: "We are delighted to welcome home buyers to the official launch of the first phase of Howton Rise. The new model really helps visitors to envisage their lives at Howton Rise at The Fairways. It is great to be able to clearly see how the individual homes fit into the community."
Buying off plan, available at Howton Rise at The Fairways, gives homebuyers the opportunity to influence the detail ahead of construction, so that buyers can move into a new home that has their own personal touch, making their home individual to them.
Emma Solman continues: "What's really exciting about this latest scheme is the two beautiful house-types that we have introduced to the Collection, the four bedroom Shaftsbury and four bedroom Marlow. Both homes still are packed with arts and crafts architecture like the other homes in the Collection, but introduce new features and greater curb appeal, as designed by the public, which ensures we know that we are building exactly what home buyers want in Newton Abbot."
For house hunters who see the Redrow home of their dreams before it is built Redrow's Early Bird Scheme gives them the opportunity to purchase at this stage. The scheme has already been a great success at Howton Rise with five properties already being sold to a very happy purchaser.
To find out more visit redrow.co.uk/developments/howton-rise-newton-abbot