Audi models fasten their belts for free MOTs for life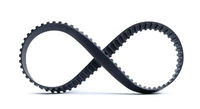 As part of its far-reaching initiative to de-stress the ownership experience as fully as possible, Audi UK is eliminating MOT costs for Audi drivers who entrust a cam belt replacement to participating Audi Centres and Authorised Repairers across the country.
Many Audi Centres are now offering free MOT testing for the life of the vehicle for any Audi model which undergoes a cam belt replacement by Audi approved technicians, potentially saving customers hundreds of pounds by bypassing the usual £49.99 MOT test fee. The offer is fully transferable to subsequent owners, who can also take advantage of free MOTs at participating Audi Centres at any point in the vehicle's life.
Audi UK recommends changing the cam belt once the mileage specified in the Audi service schedule is reached or at every five-year interval, whichever comes first. One of the hardest-working components in the engine, the toothed rubber belt can deteriorate over time, ultimately leading to cracks, rips and tears, and in the worst case scenario, it can snap whilst the car is running. Major engine damage can result which can be extremely expensive and time-consuming to remedy.
Fortunately, replacement is a simple process that can be booked at any Audi Centre in the UK. For Audi models up to 2.0-litres in engine size, a fixed price cam belt replacement costs £449, increasing to £599 for engines over 2.0-litres (excluding RS models).
While booking, customers also have the option to specify a courtesy car and to benefit from the Audi Cam video-based diagnostic service, through which Audi technicians can send customers video footage of any other problems that are identified whilst their car is being worked on.
Exacting standards
During every Audi cam belt replacement, the engine is disassembled and the belt itself replaced along with the cam belt tensioner. Naturally, only genuine Audi parts are used, and once reassembly is complete, each vehicle is given a thorough road test before the job is recorded in the service book.
The benefit of unparalleled specialist Audi knowledge and the reassurance of genuine Audi parts can also be enjoyed at a fixed price for many other items on the maintenance menu, including major and interim servicing. These are just some of the added value features that combine to make 'The Audi Difference'.
The Audi Difference refers to the fundamental practices and services which set Audi Centres apart. In addition to the convenience of Audi cam video diagnosis, other advantages include the availability of a free vehicle health check conducted with the benefit of the very latest Audi software updates whenever required, the option of car collection and return for service and maintenance jobs and on-site tyre sales and fitting.
Customers wishing to take up the cam belt replacement and lifetime MOT offer can find out more at their local Centre, or by visiting:
audi.co.uk/owners-area/servicing-maintenance-mot/fixed-price-services.html