Mauritius on a budget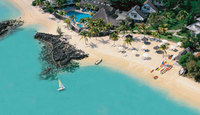 For budget-conscious travellers, luxury Mauritius can often feel out of reach – not any more thanks to the recently refurbished Tamassa and Merville Beach resorts. This incredible destination is accessible to all, offering holidays ideal for families, romantics and explorers alike, all stress free with the resorts' new, uncomplicated all-inclusive packages.
Tamassa, Bel Ombre
Located in spectacular surroundings on the South Western coast of Mauritius, Tamassa is a vibrant four-star hotel with a crisp contemporary look speckled with vivid colours. With dramatic earthy mountains as a backdrop and ocean views from every room, Tamassa has all the attributes of a luxury stay in paradise without the hefty price tag. The latest refurbishments include a new beach layout, a restyled bar complete with an al-fresco dining area, and makeover of the guest rooms, Kids Club and Spa. If the endless activities at the resort such as some 'LUX* Me time' at the spa, indulging on home made ice cream at the hotel parlour, or playing tennis on floodlit courts, are not enough, Tamassa encourages guests to make the most out of Mauritius. This includes arranging a day trip to Ile des Deux Cocos where visitors can enjoy dramatic ocean views and world-class snorkelling in Blue Bay Marine Reserve, followed by a nature walk and authentic Mauritian lunch.
Rates at Tamassa, Bel Ombre on an all-inclusive basis start from €270 (approx. £220) per couple.
Merville Beach, Grand Baie
Situated on the Northern coast, award winning Merville Beach Resort combines warm Mauritian hospitality with an enviable location. Situated on one of the island's most pristine beaches, the hotel offers the opportunity to indulge, relax and let your hair down in idyllic surroundings. With everything from a new exciting Kids Club, the addition of home made wood-fire pizzas, the unpretentious dishes inspired by French, Creole and Chinese traditions at Le Badamier, to the overall fresh new look, Merville Beach has it all at a reasonable price. Guests are able to pamper themselves at the spa, or get their adrenaline pumping with exciting water sports including windsurfing, big-game fishing and even a catamaran cruise. Merville Beach can also organise bicycle tours of the Labourdonnais Chateau or a 'fruit hike' to taste the juiciest guava, pineapples and passion fruits, tours of the famous sugar mill and even help fulfil many lifelong dreams of swimming with wild dolphins.
Rates on an all-inclusive basis start from €244 (approx. £199) per couple.
Part of the renowned Produced by LUX* portfolio, Tamassa and Merville Beach perfectly reflect the LUX* Resorts philosophy, offering local charm, enhanced with a fresh, unpretentious and inspiring way of living, a refreshingly different take on traditional Indian Ocean holidays.
For more information, visit luxresorts.com.