New MINI Cooper SD Hatch is torquiest MINI ever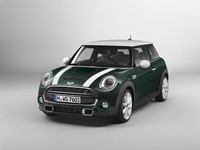 The new MINI Hatch looks set to broaden its appeal with the introduction of a new range-topping diesel engine: the MINI Cooper SD 3-door Hatch.
Since its UK market launch in March this year, the new MINI Hatch has been a runaway success winning both critical acclaim and new customers. As of June 2014, MINI UK has the strongest forward order bank for Hatch since the brand was relaunched in 2001.
In total there are now six power units available for the 3-door Hatch in the UK, including three petrol and three diesel engines - all of which were newly developed. This new engine generation, which features three or four cylinders and MINI TwinPower Turbo Technology, creates the basis for a clear boost in efficiency and performance.
The MINI Cooper SD 3-door Hatch offers an impressively favourable balance between fun and frugality, and is the torquiest ever fitted to MINI. The 2.0-litre 4-cylinder engine generates a peak torque output of 360 Nm at 1500 rpm. It also boasts a power output of 170 hp. New MINI TwinPower Turbo Technology has a turbocharging system with variable turbine geometry and common rail injection with magnet valve injectors operating at a maximum pressure of 2,000 bar. This combination of technology enables both highly spontaneous power delivery as well as a precisely controlled fuel supply.
Thanks to the pulling power of the new diesel engine, the MINI Cooper SD completes the sprint to 62 mph in 7.3 seconds. The optionally available 6-speed automatic transmission sees this figure drop to 7.2 seconds. This sporty character is combined with an average fuel consumption of 68.9 mpg in each case, with CO2 emissions of 109 grams per kilometre (automatic: 107g/km, EU test cycle figures, dependent on tyre selection).
Just like the rest of the MINI Hatch model range, the MINI Cooper SD 3-door Hatch is built at MINI Plant Oxford, the brand's high-tech global manufacturing base. Priced from £19,450 OTR, the latest MINI Hatch model will be available to order at MINI dealers nationwide from July.