An evening of specially selected Bourbon at the Athenaeum Whisky Social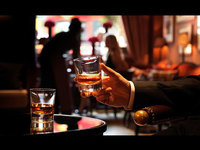 On July 4th, as America celebrates Independence Day, the Athenaeum Hotel and Apartments will re-commence their popular Whisky Socials, aptly offering guests the chance to sample the delights of some of the world's finest Bourbon Whisky from Rock Town Distillery, Little Rock, Arkansas. As is tradition, the evening will feature a specially prepared menu, with each course designed by Head Chef David Marshall and Whisky Sommelier Ivo Silva to compliment the flavors and depth of the accompanying spirit.
The Athenaeum's distinguished Whisky Sommelier, one of only two in the UK, will be on hand to guide the guests through the fabled distilling and blending process that is used to create one of the most popular drinks in the world. Guests will be able to sample the different Bourbons produced by Rock Town Distillery with tasting notes to introduce guests and guide connoisseurs. Despite its relatively recent arrival onto America's burgeoning craft distilling scene, Rock Town's impact has been immediate and far-reaching with the remarkable capture of the World's Best Bourbon prize at the World Whisky Awards 2013 – a landmark achievement quickly followed by a Double Gold medal at the San Francisco World Spirits Competition.
July's Whisky Social will take on an all American twist, beginning with a specially created Bourbon cocktail and matching canapés before guests take their seats for an exclusive dinning menu. Each course will be served with different Bourbons from Rocktown's superb range. The menu has been especially prepared with the unique flavour of Bourbon in mind, matched to perfection by Head Chef David Marshall.
Rock Town is the first legal distillery in Arkansas since Prohibition days and even today makes the state's only Bourbon. Instilling an old fashioned ethic of hard work and dedication, distiller Andy Lewis uses Arkansas corn, rye and wheat to create Rock Town's award-winning profile of products. The distillery's versatility, coupled with steadfast commitment to quality and remarkable international success, marks Rock Town as one of the world's most exciting new distilleries.
An intimate and inspiring evening that feels like sharing a glass of something special with friends and experts in the comfort of your own home, the Athenaeum Whisky Social is a monthly event. The discussion is open, knowledge is shared, drinks flow and the atmosphere is superb.
After the main event, guests are invited to relax in the hotel's renowned whisky bar, which holds one of Britain's most extensive, and impressive whisky collections. From traditional malts from Scotland to the finest exports from Japan, the bar has everything that the whisky connoisseur could want. For whisky novices and those looking to learn more about this fascinating drink, the friendly bar staff and the bar's resident whisky sommelier are always available to chat and offer advice.
Whisky Social tickets are priced at £55 per person. Ticket price includes cocktail and canapés on arrival and a full 3-course dinner with specially paired Whisky.
For more information and to book a ticket, visit:
athenaeumhotel.com/food/offers/whisky-socials/