City Marque serviced apartments perfect match for Wimbledon accommodation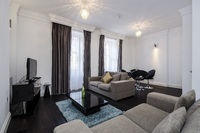 As the Championships return to Wimbledon this month, so too will it's swarm of spectators, filling up the borough's accommodation faster than you can shout 'deuce'. Attracting as many as 500,000 fans each year, the All-England Club never fails to bring entertainment and excitement to London's leafy suburb, but not without hefty mark-ups.
For those who want to be in the heart of the action but don't want to pay over the odds for accommodation, City Marque's serviced apartments offer the perfect solution and a more comfortable alternative to hotels.
If last year is anything to go by, hotels in Wimbledon are expected to increase their prices by an average of 70% during the tournament, while prices across London will go up by nine per cent over the fortnight.
With luxurious, spacious apartments located in Kensington, Ravenscourt Park and Knightsbridge all within an eight mile radius of the All-England Club, tennis lovers can soak up the Wimbledon atmosphere while relaxing in a home away from home, without the hotel mark-ups. City Marque's serviced apartments provide space and modern facilities which allow guests the freedom and flexibility that hotels can often limit.
A week's stay in a City Marque two bedroom apartment in Knightsbridge costs £344.00 per night and sleeps up to five people. Located adjacent to Harrods, the apartment features sleek wood flooring, open plan living and dining area, a full-sized, fully-equipped modern kitchen and walk-in spa shower and bath. The apartment has been tastefully decorated, with elegant lighting, floor-to-ceiling windows and beautiful soft furnishings employed throughout.
Derek Gallimore, Managing Director of City Marque, comments: "Our serviced apartments offer guests the ideal balance of luxury and affordability. Those that choose to stay with us during the Championships will be able to enjoy the tournament throughout the day and experience a five star lifestyle in the evening, at a fraction of the cost. As part of our 24/7 concierge service, we'll also be able to offer advice on the best places to eat, drink and play to ensure that the Wimbledon experience is complete."
Not only do City Marque's serviced apartments provide generous living space with high quality interiors, they are also a less expensive alternative to traditional hotel accommodation.
City Marque serviced apartments are perfect for families or larger groups too, as apartments can comfortably accommodate up to six people. Fully equipped kitchens, open plan dining and entertaining facilities, complete with TV, stereo and iPod dock as standard and make for the perfect retreat from those Wimbledon crowds.
The majority of apartments are also equipped with washing and drying facilities (those that don't, offer this as a complimentary service), free Wi-Fi, housekeeping and 24 hour concierge service, to ensure guests feel safe and secure.
For more information, visit citymarque.com