Mazda3 SkyActiv-G petrol-engine models in demand from Fleets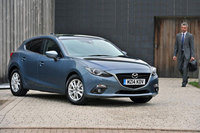 This year the all-new Mazda3 joined the ever-popular Mazda6 and Mazda CX-5 in benefiting from the brand's award-winning SKYACTIV technology, which delivers the twin key fleet attributes of low carbon dioxide (CO2) emissions and first-class fuel economy.

In the changeover model year of 2013/14 Mazda3 accounted for 12 percent, but interest in the model is proving to be spectacular as demonstrated by demand for test drives at the recent Fleet Show at Silverstone.

Mazda expects growth of around 30 percent in its core fleet channels in 2014/15 - end-user fleets, Mazda Contract Hire and leasing companies - and much of that will be due to demand for all-new Mazda3.

To date the fleet sales split between diesel and petrol engine models is 63 percent versus 37 percent respectively. Mazda says petrol engines models are proving particularly attractive to employees opting for a company car via a salary sacrifice scheme or lease arrangement.

Fuel economy of the entry-level SKYACTIV-G petrol 1.5-litre 100ps model is a massive 24 percent better than the previous generation Mazda3 1.6-litre petrol with CO2 emissions reduced by a huge 17 percent.

Industry data suggests that average fleet mileage is reducing and Mazda Head of Fleet Steve Tomlinson believes that is a contributory factor to demand for petrol-engined all-new Mazda3 models being higher than forecast at launch.

He said: "MPG from all-new Mazda3 SKYACTIV-G petrol engines is phenomenal and as average company car mileage reduces many drivers do not require a diesel engine model. Furthermore, businesses and drivers benefit from the lower pump price of petrol.

"Many companies' link vehicle choice lists to a monthly lease rate allowance and drivers typically select models that deliver the best value for money. The combination of power, performance and specification delivered by the all-new Mazda3 petrol engine range twinned with low CO2 and top-notch MPG is proving very attractive when factored against a monthly lease rate, which reflects annual mileage and excellent residual values."

The all-new Mazda3 is available in both a Hatchback and Fastback (saloon) with fleet sales 62 percent versus 38 percent respectively.

In a sector in which there are few saloon options, Tomlinson said: "The Fastback is proving popular amongst company car drivers who prefer coupé-like styling in a mid-sized four-door saloon."

He concluded: "There is no doubt that diesel-powered hatchback derivatives of the all-new Mazda3 will remain the most popular among company car drivers. However, the arrival of SKYACTIV technology in the all-new Mazda3 in both Hatchback and Fastback bodystyles is changing the market allied to the lifestyles of today's employees."

The all-new Mazda3 is available with a choice of SKYACTIV-G petrol 1.5-litre 100ps, 2.0-litre 120ps and 2.0-litre 165ps engines or the SKYACTIV-D diesel 2.2-litre 150ps powerplant. On-the-road prices start at £16,695 for the all-new Mazda3 range with a choice of SE, SE-L and Sport Nav specifications with the former two also available with navigation options.

Petrol engine models offer fuel economy from up to 55.4mpg and CO2 emissions from as little as 119g/km, while the diesel engine, which meets Euro 6 emission standards, returns up to 72.4mpg with emissions from just 104g/km.