Natural hair extensions leading hair trends in the UK this summer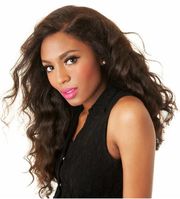 A recent survey and sales forecast compiled by expert wig and hair extension specialist Louise Pierre reveals that women all over the UK are consistently requesting and buying hair extensions that are inspired by Kim Kardashian's latest hairstyle. The research analysed the buying habits of a selection of women in the UK, between the periods of Jan 2012-May 2014. The research shows a large increase in the sales of Kim Kardashian-inspired extensions whenever she changes her hairstyle.
Louise commented: "Women are coming to me to change their hairstyle literally every time Kim changes hers; she really is the biggest influence of current hair trends in the UK. In 2012 they wanted Kim's black glossy long style and sales of black wigs went up by 90%, and then 2013 was all about ombre, and ombre extension sales went up by 80%.
"Now in 2014, Kim and celebrities like Nicki Minaj have started wearing their hair in a natural style, and as a result we've seen over a 70% increase for our sales for Virgin Brazilian Hair, which gives women an astonishingly natural look. Last year natural hair extensions were the least popular buy by customers.
Women are convinced that Kim wears Virgin Brazilian Hair - natural, real human hair of the highest quality, flown in from Brazil to create those long and glossy red carpet locks. Ombre hair extensions are no longer as popular as they were last year. They are now the second most requested hair extensions this year."
Louise Pierre runs her own website which specializes in advice and sales of wigs and hair extensions.
She continued: "We only sell pure, real hand-sourced human Virgin Brazilian hair - the highest quality Virgin Brazilian hair on the market. Unlike other brands, our virgin hair will never be mixed with synthetic or low-quality hair. We can transform tresses with a range of products and systems, including full lace wig systems, glueless lace wig systems, micro ring hair extensions and wefts. We offer shades and styles to suit every ethnicity and every budget."
"Women right now want totally natural-looking hair for special occasions and events, especially weddings and holidays now that summer is on its way. And more importantly, they can afford it as the prices become more accessible. Hollywood hair isn't just for the rich and famous anymore! Women love the latest Virgin Brazilian Hair because it is soft to the touch, silky and perfectly smooth, plus its long-lasting, tangle-free and low maintenance hair."
For more information, visit louisepierre.com.