World number one kite surfer takes top spot in Red Sea Kite Surfing World Cup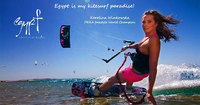 Karolina Winkowska, the world number one female kite surfer, added another significant trophy to her collection, taking home the top prize at the prestigious Red Sea Kite Surfing World Cup in Egypt earlier this month. Winkowska's blitzing of the competition at the high profile event furthers what has already been a comeback year for the Polish champion, returning to the top spot for the first time since 2012.

The kite surfing ambassador attributes much of her renewed success to the training conditions she has enjoyed in the past few months, basing herself in Egypt.

"Egypt is truly the ideal location for this sport given its sun and wind conditions," she says. "I fell in love with the country when I first visited it at just 14 years old, and I have been travelling here for many years to train since I took up kite surfing. It truly is a kite surfer's paradise and the ultimate training ground for those wanting to perform at the highest levels of competition."

Winkowska's adoration for the land of Pharaohs has been confirmed recently, with the sports star now officially sponsored by the Egyptian Tourist Authority.

"We could not ask for a more outstanding kite surfing Ambassador for Egypt", remarks Omayma El Husseini, UK & Ireland Director for the Egyptian Tourist Authority. "Her current success as the world number one is a reflection of her passion and dynamism and we are proud to support events such as the Red Sea Kite Surfing World Cup that enable us to showcase Egypt as a nation that shares such qualities."

"We're humbled by the fact that many other international sportsmen and women are following in Karolina's footsteps, enjoying Egypt as an ideal training ground to propel them onto the world's sporting stage," added Husseini.

Egypt's naturally sunny climate ensures those wanting to play a variety of sports, be it; kite surfing, windsurfing, wakeboarding, diving, or golf, can do so in the knowledge they will have excellent sporting facilities at their disposal.