Solo travellers shun hotels for university rooms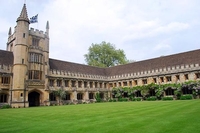 Solo travel is an increasing trend within the accommodation sector, but is one not necessarily catered for by the traditional hotel industry. Google searches for "solo travel" are up 31% this year compared to 2013, driven in part by the growing number of people living alone, but also by couples choosing to holiday apart.

UniversityRooms.com, a website offering accommodation in halls of residences out of term time, has benefited from the big increase in traffic from individual travellers looking for city centre accommodation on a budget. Over 60% of bookings on the site come from individuals and it has seen a 21% rise year on year.

UniversityRooms.com provides unique accommodation in 400 university colleges and halls of residences in 75 cities around the world including London, Oxford, Cambridge, Edinburgh, Paris, Rome, and Barcelona. Its advantages for solo travellers can be summed up in 4 words: value, location, safety, and companionship.

In a recent survey 65% of respondents said they booked to stay at a university residence partly because it offered better value for money than hotels. Whilst it also offers twin and double rooms, solo travellers can avoid hotels' single supplements by staying in its single study style bedrooms: the perfect, budget city break option with prices as low as £25 per night.

In the same survey, over 67% of people chose to stay in a university room over a hotel due to its convenient city centre location. One respondent commented: "The location was better than most of the hotels I'd also considered."

Safety and ease of meeting others are two other advantages of accommodation like UniversityRooms. After staying at an Oxford college booked via UniversityRooms.com, a recent solo traveller commented: "As a single female, I felt I was staying in a safe environment. I loved meeting new people at breakfast in the Great Hall and having free access to the university grounds." One visitor to a Madrid university residence commented "I always appreciate the availability of university rooms, not only because of the value but because it is possible to meet and talk with local people much more easily than in a hotel."

The survey also highlighted unique experiences: "On the Sunday night there happened to be a concert in the chapel by a world-class organist – you don't get that in a chain hotel," revealed one traveller. Another recent guest concluded "It was a wonderful experience to stay in the 2nd quad of Jesus College in an excellent guest room with an oak door from 17th century and have breakfast at the high table in Hall. I was even able to wash my clothes in the College laundry". And another added "I met a retired professor from one of the other university colleges over breakfast. It was a most enlightening conversation".

As Angela Southall, Marketing Manager for UniversityRooms.com explained: "Solo travellers are very well catered for with UniversityRooms – there's a wide selection of single rooms in convenient city centre locations which means there is no need for the dreaded single supplement often charged by hotels. For females travelling alone, UniversityRooms.com offers a secure environment, wherever they are in the world. From convents in Barcelona to a historic Oxford college or castle in Durham, there's something for every traveller who wants to explore the UK or the rest of the world."

This combination certainly seems to result in contented happy customers, with 98% of surveyed customers saying they would consider recommending UniversityRooms.com to a friend.