Get to know the dramatic mountain stages of the Tour de France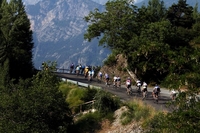 The 2014 Tour de France will feature more mountain stages than ever before, which promises to make it the most enthralling contest in recent memory, and gives spectators the chance to discover a myriad of mountain magic across three of France's 5 major mountain ranges. The Vosges in particular will appear on many people's radars for the first time, with 3 stages, whilst the classic massifs of the Pyrenees and the Alps host 3 and 2 stages respectively.

Vosges

Relatively unknown until recently to participants and spectators alike, The Vosges massif welcomes 3 critical stages for 2014.
Stage 8 passes through La Bresse before a series of thigh-screaming climbs to Gerardmer, the steepest of which the Col de la Grosse Pierre reaches 16%. Gerardmer itself is stunning town, nicknamed the "Pearl of the Vosges" by Abel Hugo (Victor's brother)
Stage 9 by contrast features a series of longer gentler climbs, before another steep up-and-down leg
Stage 10, passes through the idyllic village of Ventron and culminates in a savage 20% climb La Planche des Belles Filles, scene of Chris Froome's epic breakaway in 2012

Alps
Both Alpine stages will present new challenges to the riders, almost all of whom will be unfamiliar with the stunning new routes.
Stage 13 culminates in the first summit finish in Chamrousse, a popular mountain resort within touching distance of Grenoble
Stage 14 will feature 2 of the highest points on the Tour. After passing through the legendary untamed ski resort of La Grave, riders will climb the Col de Lauteret (2058m), descend the Serre Chevalier Valley to beautiful Briançon, Europe's highest city and Unesco World Heritage site, before the long climb to the Col d'Izoard at 2360m. This leg finishes in the popular sunny mountain resort of Risoulin the Hautes Alpes

Pyrenees
Much like the region itself, the 3 Pyrenean legs of the Tour have a bit of everything, both to test the riders and to delight spectators.
Stage 16 is the longest stage of the Tour, starting in Carcassonne and culminating in a monster 20km climb La Porte des Bales, ending up in the idyllic village of Bagneres-de-Luchon
Stage 17 is the shortest, most hectic stage of this year's race and, "without a doubt this year's highlight". The contrast between the riding over these two stages and the destination of Saint Lary Soulan, a serene Pyrenean spa resort, couldn't be more marked!
Stage 18's highlight is its highest point- the Col du Tourmalet (2115m)- between Bareges and La Mongie which together form the biggest mountain resort of the French Pyrenees, in the shadow of the famous Pic du Midi du Bigorre and its remarkable mountaintop observatory.