Maria Sharapova arrives at pre-Wimbledon party in new Porsche 918 Spyder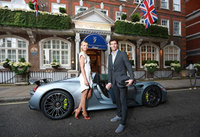 French Open winner, Maria Sharapova, was driven to the glamorous Women's Tennis Association (WTA) Pre-Wimbledon Party in the Porsche 918 Spyder – the Stuttgart marque's fastest, most powerful production car to date, and also one of the lowest-emitters of CO2 of any class of car.

The 918 Spyder is a remarkable plug-in hybrid super sports car that can reach a top speed of 214 mph, sprint from 0 to 60 mph in 2.5 seconds, and yet at 72 g/km (70 g/km with the lightweight Weissach Package) produce so little CO2 that it is exempt from the London Congestion Charge.

Fresh from his drive in the Le Mans 24 Hours race last weekend, Sharapova's chauffeur for the night was Porsche factory 'works' driver, Mark Webber, complete in smart chauffeur attire.

Sharapova, a Porsche Ambassador, was collected from The Goring Hotel in Belgravia and driven by Webber to the prestigious event at Kensington Roof Gardens in West London. On arrival, both were met by fans and the world's media, all of whom were just as interested in the car as they were in its occupants.

Its striking appearance certainly has the ability to turn more than a few heads, but it is what lies under the skin that really sets the 918 Spyder apart from any other super sports car. A total power output of 887 hp enables breath-taking acceleration and a top speed of over 200 mph. Combine that with sophisticated four-wheel-drive and four-wheel-steering, and it is no wonder that the 918 Spyder holds the current lap record for a production car at the famous Nürburgring race circuit of just 6 minutes 57 seconds. And yet, despite all that performance, its plug-in hybrid technology means 94.1 mpg is possible, along with exceptionally low CO2 emissions.

Being driven in the most powerful Porsche road car to date, by arguably the world's fastest chauffeur, was an experience savoured by Sharapova. Speaking about the drive, she commented: "What a fantastic way to arrive at the party. To be in the fastest Porsche with a racing driver like Mark is amazing. And it's great also to be driving in a city like London running only on electric power – it's an unbelievable car!"

Webber was equally impressed by the car. The Porsche World Endurance Championship driver said: "Having just driven the Porsche 919 Hybrid race car at Le Mans last weekend, I already know that this technology can produce incredible results. The 918 Spyder is the closest thing to a road-going version, and it's just as amazing – especially as it can be driven into London for free. And of course it's great fun to drive Maria around in it!"

The 918 Spyder has a mid-mounted 4.6-litre V8 race engine coupled to two electric motors with lithium-ion batteries. Together they are capable of delivering micro-car levels of fuel economy, along with carbon dioxide emissions of just 72 g/km and a potential electric-only range of 18 miles.

Embodying the essence of Porsche – Intelligent Performance – it combines pedigree motor racing technology with everyday versatility, creating the super sports car for the future with a highly efficient and powerful hybrid drive.