Brand new Irish Boot Camp launch - July, Lough Derg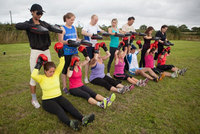 Revival launch a stunning new luxury residential boot camp in Ireland. Situated on the beautiful shores of Lough Derg in Tipperary, Revival are delighted to be able to offer a multitude of outdoor activities including kayaking on the Lough, cycling, hiking and boxercise! The new weight loss and fitness retreat features an on site sauna, Jacuzzi and cold tub to soothe those aching muscles. The beautifully spacious bedrooms and living areas offer a luxurious setting after a hard days exercise.

Why Revival Boot Camp's luxury Ireland Boot Camp?
Enjoy nutritionally-balanced and delicious meals prepared by Michelin star chefs who have worked and trained with the best, including the likes of Jamie Oliver.
Feel attended too with small group sizes of up to 12 clients per trainer (no more than 18 per camp).
A selection of indulgent spa treatments will be available to add to your package, to help relax your mind, body and soul!
A typical day with Revival will include kayaking on Lough Derg, hiking around Tipperary, as well as traditional fitness training methods but so much more, with cycling in the scenic National Park, alongside circuit training and water polo in the indoor pool.
Get amazing results with supportive PTI's (Physical Training Instructors), the finest in the world. But don't worry, they don't shout, only offer support and tailored advice.

Forget the stereotypes of harsh and punishing old-school boot camps, at Revival expect dressing gowns, slippers and aromatherapy products which are complimentary and standard on all Revival Retreats.

Revival welcome men and women of all shapes, sizes and abilities. Many to lose weight, others to improve fitness, and some simply to challenge their lifestyle and get away from the hustle and bustle of life. Whatever your goals is Revival make it their job to support you on your journey.

Every client leaves with love and support including a Revival Goody Bag, diet plan, recipes, training regime and a healthy lunch box to avoid any service stations on the way home!

Revival's Irish Boot Camp is available from £799. They also offer a mid-week retreat in Kent is from £499. Revival' s Suffolk starts from £799 for a week stay. Fitness Days are also run in London starting at just £20!
For more information, visit revivalbootcamp.com.