Incredible, immersive wildlife safaris with a difference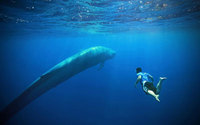 A collection of new, exclusive safaris has been launched, giving wildlife enthusiasts the rare opportunity to be right at the heart of some of nature's great events, from snorkelling with migratory blue whales to floating among grizzly bears as they feast on the great salmon run. Stunning images are available with this press release, suitable for a picture-led news story.

Mother Nature is amazing; every year animals migrate in their thousands, landscapes dramatically transform and sky comes alive with birds, bats or dancing light displays. These moments are normally only seen and captured by the likes of National Geographic or BBC documentary makers but now Natural World Safaris, a specialist wildlife tour operator, has launched a new selection of exclusive safaris giving ordinary holiday makers a ringside seat to nature's great events.

Natural World Safaris have selected thirteen incredible natural events that showcase the best of nature. Many of these events are rarely witnessed and wildlife enthusiasts embarking on these trips will become one of a very select number of people to not just witness, but get right to the heart of the action.

One safari travels to Sri Lanka where the population of the magnificent blue whale, the world's largest mammal, is one of the healthiest in the world. Natural World Safaris have been working with a wildlife photographer who is assisting local research teams in the study and photography of these amazing creatures and have created this very unique safari allowing lucky travellers the opportunity to swim with them as they congregate off the south coast. Numbers are strictly limited to two small groups of just four people per year, price starting from £4,195 per person.

Another marine adventure takes travellers off the coast of South Africa to witness the sardine run; millions of sardines make their way up the coast in swirling "bait balls" attracting sharks, dolphins and other marine wildlife, putting on a spectacular show for divers.

For those who prefer their wildlife cute and cuddly few experiences can beat waiting outside a polar bear den to see a mother emerging with her cubs who are seeing the outside world for the first time. The safari runs for just one week a year with just eight spaces available from £6,300 per person sharing.

Other remarkable events that the Nature's Great Event safari collection covers includes:
The largest gathering of Asian elephants in the world
Swimming with narwhals, the unicorns of the sea
Paddling alongside caribou as they island hop across the icy Arctic tundra
Watching 8 million puppy-sized bats swarm and gorge on fruit
Seeing Emperor penguins as the chicks make their first journey to the ocean
Floating down the river while grizzly bears feast on migrating salmon
Mobile camping to get to the heart of the famous African wildebeest migration
eeing new-born ringtail lemur babies start to explore their surroundings

Natural World Safaris believe this incredible collection of wildlife adventures to be the most unique in the world. As the tour operator of choice for some of the world's top wildlife photographers, they have a strong pedigree of delivering incredible wildlife experiences that put their clients in the right place at the right time for some extraordinary encounters.

The Nature's Greatest Events safari collection gives ordinary wildlife enthusiasts the opportunity to embark on an adventure they would previously only have had the opportunity to see on documentaries.

For more information, visit naturalworldsafaris.com.