New Official Tourist Board Pocket Guide launched for 'Walkers & Cyclists'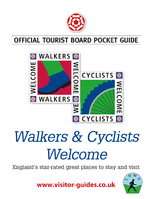 A new Official Tourist Board Pocket Guide has been launched for Walkers & Cyclists published by Hudson's Media in association with the Long Distance Walkers Association (LDWA). The guide, entitled "Walkers & Cyclists Welcome" includes 156 star-rated great places to stay that go out of the way to make special provisions for walkers and cyclists and make them feel welcome. All the accommodation listed is accredited by VisitEngland, the national tourist board for England and assessed by them to meet the needs of both walkers and cyclists.
The guide comes in a handy pocket-sized format so that's it small enough for walkers and cyclists to transport with them. The Guide is easy to use and packed with useful and essential information. The wide range of accommodation is listed by region/county/town along with images. Additional facilities such as places to dry outdoor clothing, secure bicycle storage, cycle hire and repairs and the nearest pub and shops are provided. It also features information about great places to visit along the way, information on travel and useful contacts, in fact everything a traveller needs for a fantastic walking and cycling holiday!
In addition, the Guide has an interactive website with an easy to use search facility and enables the user to book online. The website can be found at visitor-guides.co.uk. The Guide is priced at £7.99 and can be ordered online from hudsons.co.uk/shop and bought from major retailers including WHSmith's, Waterstones, Amazon as well as independent book shops.
Lisa Barreno, Publisher stated "We are delighted to publish our first official Guide for Walkers & Cyclists. More and more people are looking for the perfect holiday combining exercise, fresh air, inspiring landscapes, good companionship and that doesn't cost a fortune! Walking and Cycling are a perfect combination. Visitors can choose the right accommodation, confident that wherever they stay it is guaranteed to be of a certain standard with a warm welcome waiting for them at the end of the day".
Hudson's Media, under license from VisitEngland/VisitBritain, also produce three other official Tourist Board Guides including 'B&B and Hotels', 'Self-catering and Camping' and 'Touring & Holiday Parks'. The website features over 20,000 places to stay in the UK all of which are independent and star-rated. For more information about the Official Tourist Guides visit visitor-guides.co.uk.