Vauxhall marks 10 years of VXR with latest 1600hp line-up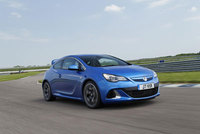 Vauxhall's VXR brand has come of age in 2014 with the latest addition of the mighty VXR8 GTS marking ten years since the VXR brand made its debut on UK shores.

With total sales now exceeding 20,000, the VXR range has been embraced by UK car enthusiasts, who have built up a loyal following to the brand. As a result, Britain has always been the leading market in Europe for Vauxhall/Opel performance cars, known as OPCs in other countries.

There are currently five cars in Vauxhall's VXR range: the Corsa VXR, the 210PS Corsa VXR ClubSport, the 280PS Astra VXR, the 325PS Insignia VXR and the 576PS VXR8 GTS. With a combined power output of nearly 1,600PS, there are few performance car ranges that offer so much power per pound.

The first cars to bear the VXR nameplate were the VXR220 and the Monaro VXR, both of which were launched at the British Motor Show in Summer 2004. Number One VXR220 still resides in Vauxhall's Heritage Centre, while the Monaro VXR – '…a true rear-wheel drive car for enthusiasts' – was 40 per cent cheaper than a BMW 6-series at launch, yet developed 330PS from it 5.7-litre V8 engine.

But sports cars and rear-drive coupes haven't been the only models subjected to VXR makeovers. The Zafira and Meriva MPVs were unlikely candidates, but proved that up to 240PS in a front-wheel drive people-carrier needn't be an unruly experience. Chassis development at the Nordschleife helped, as did a raft of cabin upgrades, including Recaro front seats.

More recently, models like the Astra VXR and Corsa VXR ClubSport have adopted sophisticated differential technology to cater for ever increasing power outputs. Manufactured by Drexler, the units help power to be applied more effectively through bends, giving the impression that driver is being pulled towards the apex under power.

And technological innovation is now the VXR bedrock. Torque Vectoring and magnetorheological damping (VXR8 GTS), adaptive all-wheel drive (Insignia VXR), FlexRide adaptive damping (Astra and Insignia VXRs), as well as generous levels of standard equipment in all VXRs have made the range a firm favourite with British enthusiasts.

This year also marks the anniversaries of two iconic performance Vauxhalls that never wore the VXR badge. Launched in 1989, both the Calibra and Lotus Carlton are now celebrating their first quarter-century. The Calibra was unveiled at the Frankfurt show, and with a Cd of just 0.26, it became the most aerodynamic car in its class, which when combined with up to 200bhp and all-wheel drive in later models, made it a credible rival for cars like the Sierra Cosworth and Lancia Delta Integrale. The Calibra was produced until 1996, by which time over 40,000 had found homes in the UK.

More than 65 years after producing Britain's first 100mph road car, Vauxhall proved that it was still adept at causing a stir in the performance car world when it launched the fastest four-door saloon in the world: the Lotus Carlton.

With 377bhp from its twin-turbcharged, straight-six engine, Vauxhall's super-saloon could crack 176mph and accelerate from 0-62mph in 5.4 seconds. And with a chassis developed with Lotus Engineering, the Lotus Carlton was an assured and finely balanced car that was equally adroit on fast British A-roads or belting along de-restricted Autobahns.

And 25 years on, perhaps the Lotus Carlton has finally met its match with the latest VXR8 GTS… Either way, the VXR range continues to go from strength to strength.