Twin-shot Pre-MOT Packs help reduce exhaust emissions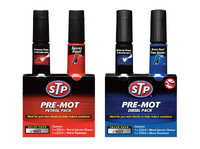 Higher than permitted exhaust emissions account for more than 700,000 annual MOT test failures in the UK a year - 30% of the total - but a simple remedial and preventative treatment prior to the test can markedly reduce the risk of failure, says leading fuel additive brand, STP, highlighting the benefits of its STP Pre-MOT Packs.
The lack of regular engine servicing of older cars makes them vulnerable to the build-up of carbon deposits, which can contribute to raising exhaust emissions, but STP says that new technology engines are just as susceptible to the accrual of such deposits through normal combustion.
The dual-product STP Pre-MOT Packs, for both petrol and diesel engines, contain a 200ml bottle of STP Petrol Injector Cleaner or Diesel Injector Cleaner - applied before the MoT Test to help remove carbon deposits and unclog injectors in just one tankful of fuel - and a 200ml bottle of STP Petrol Treatment or Diesel Treatment. The latter, when added to the following full tank of fuel, acts as a preventative to fight the build-up of deposits and maintain engine efficiency.
STP Pre-MOT Packs, at £9.99 RRP, are suitable for all petrol and diesel engines, including DI, IDI and Common Rail, and are not harmful to catalytic converters. They are widely available nationwide from Halfords stores and on-line, motoring accessory outlets and forecourt shops. For more information on the full STP engine care range, visit stp.eu.