2014 Casio Edifice Infiniti Red Bull Racing Collection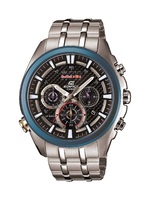 Casio's popular Edifice range has always been inspired by motorsport and engineered for precision timing. The concepts of speed and intelligence comes across in each timepiece, but nowhere are these qualities better illustrated than in the limited edition models for 2014, designed in conjunction with the four-time Formula 1 champions at Infiniti Red Bull Racing.
Casio Edifice and Infiniti Red Bull Racing have enjoyed a long-standing collaboration thanks to their shared vision of delivering accurate technology and precision engineering. So when Infiniti Red Bull Racing's chief technical officer Adrian Newey started designing this year's RB10 car, the engineers at Casio Edifice were simultaneously refining their designs for the 2014 season.
This was more than simply a parallel in time. Casio was in constant conversation with Infiniti Red Bull Racing throughout the season, gaining unparalleled feedback from the sport's front line in order to produce improved designs. As a result of this, the 2014 collaboration range features a slimmer casing that made it less likely to snag on the pit crew's sleeves, while the new scratch-resistant glass cover was reinforced to withstand severe knocks in the heat of competition.
In addition, Casio's engineers were intent on expressing the light-and-dark spectacle of night races within the F1-inspired collaboration range. With that in mind, the 2014 Casio Edifice x Infiniti Red Bull Racing collection is the first to feature three black watches in the five-strong range. Though the colour scheme is able to blend into the fast-paced environment of a pit garage, full LED illumination ensures that the dials are always easily readable, whatever the time of day.
To ensure these attractive timepieces perform in other lifestyle environments, each is equipped with a stopwatch accurate to 1/100th second, 100m water resistance and solid mineral glass covering.
The 2014 Casio Edifice x Infiniti Red Bull Racing collection costs from £150 to £290 and is available now from Casio London store, casioonline.co.uk and branches of H Samuel.