'Foodie Britannia' rules - Nation of TV inspired home cooks emerges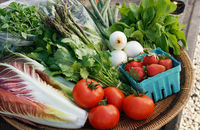 Brits are spending more time in the kitchen, with the average adult spending five hours 12 minutes in total cooking and preparing meals during the week, equating to almost two years of their life.
The poll of over 2,000 UK adults, which was conducted by the organic dairy Rachel's, exposes that over half (58%) of the UK prefer to cook at home rather than dining out, with the average Brit typically cooking five nights out of seven, spending an average of 49 minutes during the working week prepping and cooking their meals on any given night, with one in five (21%) admitting they do in fact cook seven times a week.
Furthermore, the nation are challenging themselves to get more creative in the kitchen with almost a third (31%) choosing not to follow recipes – preferring to put their own individual spin on the dishes they create. Almost two thirds (60%) of the population feel confident experimenting with a variety of different types of food in the kitchen and the younger generation (aged 25-34) feel most confident in their culinary abilities (72%) compared to just 56 per cent of over 55s. Plus, over half (54%) of Brits feel passionate they could make a delicious meal from random ingredients when challenged, and more than half of UK women consider themselves better cooks than their partners (52%).
A more confident new home cook is emerging, with over half (56%) preferring to go back to basics and start from scratch rather than buying ready meals and ingredients. In the past year, over a quarter of the British public has chosen to bake their own bread (26%) and create their own pastry from scratch at home (30%), with seventeen per cent also trying their hand at producing their own pasta.
At the heart of this home cooking trend, over two thirds (68%) of those surveyed admit their cooking habits are influenced by popular cooking shows, encouraging them to experiment with new cooking techniques at home (67%), inspiring them to be more creative and buy new ingredients that they have not tried before (63%).
Participants of the study cited the following programmes as the top five shows that influence their cooking habits at home:
1. Jamie Oliver's 15 Minute Meals (21%)
2. Great British Bake Off (19%)
3. MasterChef (17%)
4. Saturday Kitchen (14%)
5. Come Dine With Me (13%)
Rachel Rowlands, co-founder of Rachel's organic dairy, said: "We believe food should make you feel good and it's great to see that the public understand the real importance of taste, flavour and high quality ingredients when it comes to cooking. Foodie TV shows like MasterChef are clearly inspiring us to become passionate about cooking and more open-minded and experimental in the kitchen, which in turn has a positive impact on our relationship with good food."
Rachel's commissioned the research around the nation's food passions and cooking habits to celebrate the personal care, unique passion and attention to detail Rachel's puts into creating each yogurt. Please visit rachelsorganic.co.uk for more information on the product range and to discover inspirational recipe ideas.