10 essential petrol head experiences in SouthWest Germany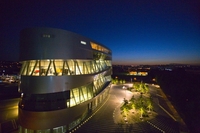 The countdown has started! As the biggest rivalry in motor racing for years revs up, Formula One fans are counting the days to the German Grand Prix at the Hockenheim circuit. It's Hamilton v Rosberg; Britain v Germany; teammate v teammate; Mercedes v Mercedes. And it all takes place in the Birthplace of the Car – SouthWest Germany, from July 18 to July 20.
But year-round, sunny SouthWest Germany is "Petrolhead Heaven".
Check out 10 essential petrol head experiences!
Drive round the Hockenheim circuit in your own car!
Take the behind-the-scenes tour, drive one lap of the testing, twisting 2.85-mile track in your own car, stand on the podium, visit the museum. 11am daily; 90 minutes; adults €12.
hockenheimring.de/en
Drive 3 high-speed laps of the Grand Prix circuit
Sit next to a professional driver in a Porsche GT3, Mercedes SLK 350 or Audi R8 for €249.
hockenheimring.de/en
Visit the Mercedes-Benz Museum
A dramatic building; the world's most coveted cars from then and now; 1,500 exhibits showing how the automobile changed society. In Stuttgart. mercedes-benz-classic.com
See the Porsche Museum
In this spectacular museum, the 80 vehicles include the iconic 356, 550 and 911 road cars, plus the 917 sports racing car. In Zuffenhausen, near Stuttgart.
porsche.com/museum/en/
See the world's oldest car!
In the former Benz factory, the star attraction is the 1888 Model III Motorwagen, in its original condition. Now the Dr Carl Benz Automuseum in Ladenburg.
automuseum-ladenburg.de
Explore Motorworld Stuttgart
Under one huge roof, this is paradise for car fans, with everything from dealers to workshops, classic cars to the latest models.
motorworld.de/stuttgart/
Stay the night at Motorworld's V8 Hotel
This four-star hotel has 10 special car-themed bedrooms! In the Stuttgart suburb of Böblingen.
v8hotel.de/en
Tour the Auto & Technik Museum
As well as Europe's largest permanent Formula 1 car display, there are 300 classic cars, 200 motorcycles and 60 airplanes! 25 miles from Hockenheim, in Sinsheim.
sinsheim.technik-museum.de/en
See Gottlieb Daimler's birthplace
Now a museum in the charming half-timbered town of Schorndorf, near Stuttgart.
daimler.com
Drive the 120-mile/215-km Bertha Benz Memorial Route
In 1888, Carl Benz's wife was fed up with her inventor husband's lack of progress with his latest patent: the automobile. So, Bertha gave the Model III a proper test drive – through the countryside. Follow her route, taking in charming villages and towns.
bertha-benz.de