Vauxhall's GTC gets powerful, refined whisper diesel engine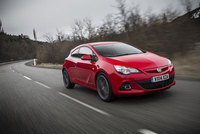 Vauxhall's rakish GTC, is now available with the refined and powerful 1.6 CDTi 'Whisper Diesel' engine. It is the latest model to benefit from the economical new engine, following its introduction in the Astra, Meriva and Zafira Tourer.

The engine replaces the 1.7 CDTi, providing 320Nm torque (up 20Nm) and 136PS (an increase of 6PS) to ensure its refinement and economy is matched by its performance, delivered through an improved six-speed manual transmission.

Available in Sport, Limited Edition and Sri Trims, equipped with Start/Stop plus a braking energy recuperation system as standard, the GTC 1.6 CDTi delivers fuel economy of up to 68.9mpg on the combined cycle and has CO2 emissions of just 104g/km and 109g/km.

The already Euro 6-compliant 1.6 CDTi is one of the best engines in its class for noise and vibration thanks to an efficient combustion process with multiple injection, re-designed components and the use of acoustic covers.

"We are delighted to see the 1.6-litre 'Whisper Diesel' introduced into our flagship GTC model," said Stuart Harris, Vauxhall's Head of Carline Brand. "The new 1.6-litre engine is a result of significant investment and provides an exceptional blend of performance, refinement and economy."

The GTC can be ordered with the new engine for prices starting at £22,260.