Discover the charming gardens of Shakespeare's England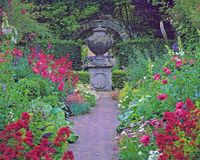 Visit the charming and unique gardens of Shakespeare's England and enjoy a host of exciting outdoor events this summer. From recreated Elizabethan Gardens, restored Victorian Gardens, garden tours to outdoor plays, picnics, garden exhibitions, shows, trails and live music, there is plenty to see and do throughout the summer months.
Pack up your picnic and enjoy an afternoon in the beautiful gardens at Anne Hathaway's Cottage on Saturday 26 July. With free entertainment and activities for all the family, this is the perfect excuse to venture outside and enjoy the gardens at their very best. There are competitions for the best dressed teddy, fairy dressing up, story-telling and children's gardening tips from the team of expert gardeners plus races and craft activities.
Visit the stunning wildflower garden at the Stratford Butterfly Farm and watch the butterflies in their natural habitat. Butterfly nectar plants and a special butterfly meadow mix of 80 different species have been planted so the garden will continually bloom throughout the summer. Visitors can buy the seed from the on-site gift shop and re-create their own wildflower haven at home.
The Lord Leycester Hospital is an amazing collection of mediaeval architecture. Erected in the early 15th Century, the half-timbered buildings are now a retirement home for old warriors and their wives. Hidden behind the Master's House is a tiny, beautiful, tranquil garden which has been lovingly restored by a past Master's wife. Unique features include the 12th Century Norman arch, a stone vase reputed to have crowned the 2,000 year-old Egyptian "Nilometer" and a very early pineapple pit.
Explore the 10 hectares of Ragley Gardens which surround the Hall and date back to 1680. Although the 170 hectares of parkland were designed by 'Capability' Brown during the 18th century, little is known about the gardens prior to 1873. It is thought that the Capability landscape came right up to the Hall itself until garden designer Robert Marnock enclosed the 10 hectares as pleasure grounds, planting them with trees and shrubs around meandering pathways and creating a formal Victorian flower garden. Other attractions include a Woodland Walk, a collection of 19th Century Carriages and the Palladian House.
The 16 restored gardens at Hill Close Gardens in Warwick feature brick summerhouses, plants displayed in special theatres and a fine collection of period garden tools. During the year visitors can see Victorian species of daffodils, blossom on 80 different fruit trees, herbaceous borders and plants housed in a glasshouse. Children can learn how to grow plants at the Flowerpot Fun workshop on 22 July and on 5 August bring in old clothes to make your own scarecrow. All the family can attend the Teddy Bear's Picnic on 20 August at 2pm. On Tuesday 29 July watch a performance of Pride and Prejudice at 7pm and on 9 & 10 August celebrate the Centenary of World War I with displays about life on the home front and a special commemorative garden.
Enjoy a garden fit for a queen at Kenilworth Castle's Elizabethan Garden. Originally designed for Queen Elizabeth I when she visited the Castle, the Gardens were faithfully recreated by English Heritage in 2009. As the gardens celebrate their 5th year, they offer a beautiful addition to the castle. See the magnificent carved arbours; a bejewelled aviary; an 18-foot-high fountain carved from dazzling Carrara marble. Enjoy a season of theatrical performances including Much Ado About Nothing on 27 July, Sense & Sensibility on 14 August and a screening of Romeo & Juliet on 21 August.
The recreated early 18th century gardens at Hanbury Hall are a riot of colour during the summer. The box hedges in the parterre are surrounded by neat beds; apple and pear trees, 'Hardy Border Mix' in the fruit garden and organic produce in the walled garden and vegetable garden. Bring along a picnic and spend an afternoon enjoying the views out across to the Malvern Hills. The Teddy Bears' picnic take place on Sunday 20 July and Family Activity days run every Tuesday and Thursday from 24 July – 2 September. The Birmingham Watercolour Art Society Exhibition runs daily from 19 July – 31 August.
The Royal Shakespeare Company is offering families free entertainment in August with seaside activities and 'end of the pier' style fun as part of Stratford-on-Sea on the Bancroft Terrace. Highlights include a family trail at the Royal Shakespeare Theatre based on The Tempest. Every day, families can pick up clues to complete a quotation from the play. Plus pose for photos as their favourite Shakespeare character as part of a seaside funny faces board. During the week relax on deck chairs with an ice cream and on weekends enjoy a range of food and drinks on the Terrace.
Wander around the Stratford-upon-Avon Home & Garden Show from 18 - 20 July in the grounds of Alscot Park. On site will be a "Pop up Bell" selling drinks from The Bell at Alderminster including Alscot Ale, Alscot Monkey, Prosecco, Pimms, and Monsoon Estates Coffee. Tickets are also available to view the normally private historic gardens.
The Lord Chamberlain's Men will bring Romeo and Juliet to Coughton Court on Friday 18 July in the grounds against the beautiful backdrop of the house. The Men will perform Shakespeare as it would have been; in the open air, in Elizabethan costume and with an all-male cast. Bring along a picnic, sit back and relax as the Men whisk the audience away to 'fair Verona, where we lay our scene'.
Enjoy an outdoor theatre performance of Peter Pan at Charlecote Park on 19 July. Bring a chair and picnic, whilst being entertained in this beautiful setting. Pride & Prejudice will also be performed on 9 August and Macbeth on 28 August. Children can enjoy a tractor pulled trailer ride through the park on 22 July & 5 & 19 August. Take part in a walk through the grounds at dusk looking for bats on 26 July at 9pm and 30 August at 8pm.
Join The Pantaloons who put their own spin on the History of Britain on Saturday 2 August at Batsford Arboretum. From Harold II and William the Conqueror failing to see eye to eye, to Henry VIII doubting five marriages are enough, the actors present a breathless race through the centuries in this inventive open-air show.
Wander around a series of interactive outdoor installations at Packwood House. The Packwood Follies includes a giant four poster outdoor bed and a cabin hidden in the woods.
Enjoy a pirate show in the outdoor Elizabethan theatre at Tudor World in Stratford-upon-Avon from Monday to Friday when young visitors can learn to be a pirate.
Attend The Arden Hotel summer party with Shakespeare's Hospice on Sunday 27 July from 12 – 6pm. Watch the world go by before tucking into a hog roast and champagne. Enjoy a Bank Holiday BBQ with live music on Monday 25 August from 12 noon - 3.00pm at The Kings Hotel in Chipping Campden.
Listen to an acoustic performance from a local artist on 24 August from 7pm for free on the heated terrace at the Holiday Inn in Stratford. Visit the new Clock Tower Garden for alfresco dining and cocktails at The Stratford and enjoy 20% off the bill, available from 11am - 9pm every day of the week.
With so many stunning gardens to explore and a host of exciting outdoor events, Shakespeare's England is the place to visit this summer!
For more suggestions and family friendly accommodation in Shakespeare's England, visit shakespeares-england.co.uk.