Autumn trekking with Walks Worldwide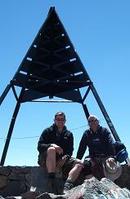 September and October are two of the best months of the year for trekking, when the crowds have gone and the fierce summer sunshine is starting to cool.
Walks Worldwide has an abundance of options for those keen to don their walking boots, stretch their lungs and enjoy a break that leaves you with a sense of achievement rather than sunburn and a hangover! Here are a few ideas…
Toubkal Ascent – 8 days from £399 pp
The feeling of achievement upon reaching the summit of Jebel Toubkal, the highest peak in North Africa at 4167m, is something that will live with you forever; it can be achieved by most people with a reasonable level of fitness. The eight-day Toubkal Ascent commences in the Ourika Valley, with a trek over the rarely crossed Tizi n'Tacheddirt to reach North Africa's highest permanently inhabited village. One more pass and then you join the regular trail to Toubkal itself, a rugged, but straightforward route to the summit for far-reaching Atlas mountain vistas and beyond to the Sahara Desert. The trip departs on 13, 20, 27 September and costs from £399 pp (land only).
Along the Lycian Way in Turkey – 8 days from £515 pp
The Lycian Way is a truly classic trail and one which should be on the bucket list of every serious trekker. Walks Worldwide's eight-day, self-guided, Along the Lycian Way follows the rocky, pine-forested 'Turquoise' coastline, with hidden fishing villages to discover en route. The trip is graded as moderate, and primarily over undulating terrain, following dirt tracks, trails and back roads, the odd beach and stream crossings. The daily distances are reasonably challenging and most days involve both ascents and descents, although these sections should present no difficulty to a regular, strong hill walker with a good level of fitness. The self-guided holiday can depart any day from late September and costs from £515 pp (land only).
Bedouin Trail to Petra – 8 days from £995 pp
An opportunity to enjoy a walk across the deserts and mountains of Jordan from Dana to iconic Petra, trekking through dramatic gorges and canyons of the Mountains on trails best known only to the local Bedouin - it's unlikely you'll encounter other trekkers. Supported by 4WD vehicles, the group will spend nights camping in wild tranquillity beneath the stars in Bedouin-style tents, with dedicated local cooks providing amazing food in splendid isolation. The holiday departs on 19 October and costs from £995 pp (land only).
Trek the Accursed Mountains of Albania – 8 days from £595 pp
Albania is Walks Worldwide's most popular destination and there are places available on the eight day The Accursed Mountains of Albania departing 7 & 14 September. The trip provides a chance to discover the remote north of the largely un-trekked mountains and passes of the country; the trekking is graded as 'demanding', walking between four & eight hours a day at altitudes of up to 2000m. The small group trip (max. 8 people) will be accompanied by an expert local guide, to explore the wild mountains, where life has barely changed over hundreds of years and the closest shop is a 5-hour drive away. The 8-day trip costs from £595 pp (land only).
All holidays include land transportation, accommodation, meals as detailed on dossiers and the services of a tour leader (group trips only). Flight-inclusive prices are available on request.
For more information, visit walksworldwide.com.