Exclusive development in Annecy with shopping and sailing on the doorstep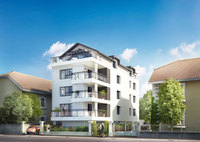 Shopping and sailing are on the doorstep of exclusive new homes to be built in the heart of the historic French lakeside town of Annecy.
Villa Meia, which is planned by leading local developer MGM, will comprise just four apartments within the town's so-called Golden Triangle, the peaceful pedestrianised heart of Annecy with its cobbled streets and 'Little Venice' canal network. The development will be close to the Annecy branch of Galeries Lafayette – the upmarket French department store – as well as the town's weekly antiques markets and others selling local produce in the Parmelan area of the town.
A few minutes' walk from the site is the waterfront of what has been dubbed 'the cleanest lake in Europe.' Lake Annecy is popular with those who enjoy sailing, swimming, watersports and fishing.
Although development opportunities in Annecy are rare, MGM has been successful in securing them in recent years thanks to the enviable reputation for high-calibre schemes it has built with the local authority in the past 50 years.
To date the firm has completed ten developments in Annecy and around its lake.
'When we submit proposals for new scheme to the local planners, they know from experience that it will comply with their stringent requirements regarding the style, finishes and overall quality of the architecture,' says Richard Deans who heads MGM's London office.
'The two-bedroom and three-bedroom, two-bathroom apartments at Villa Meia will have floor areas ranging from 80 sq metres to more than 107 sq metres. They will combine contemporary designs with traditional architectural styles. The emphasis will be on clean lines and subtle terraces featuring exceptionally high quality materials throughout.'
Every apartment occupies an entire floor with windows on all sides, combining what the developer describes as 'airy volume with plenty of natural light.'
Every apartment comes with a secure garage and an external parking space.
In surveys, Annecy consistently features as one of the most desirable places to live in France. Flower-filled in summer, the town is a cultural centre hosting festivals, conferences, exhibitions and theatrical performances throughout the year.
'For investors, there is good scope for long-term or short-term lets and holiday rentals, as well as capital growth,' comments Richard.
The prices of new-build properties in Annecy have doubled in the past 15 years, despite the recession. They rose by eight per cent in the past year alone. In addition, rents have seen an annual increase of 1.8 per cent since 2007.
The off-plan prices of MGM's new apartments at Villa Meia in Annecy start at €690,000. For more information, visit mgmfrenchproperties.com.