"One of 100" the Maserati Quattroporte Zegna Limited Edition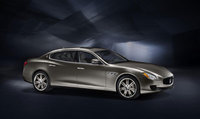 After making its world debut at the 2013 Geneva Motor Show, Maserati has revealed an exclusive limited edition Maserati Quattroporte in collaboration with luxury Italian fashion house, Ermenegildo Zegna. Just 100 examples of the limited series will be built which feature colour schemes, materials and exclusive trims which link the histories of the two brands.

To celebrate the launch of the Quattroporte Zegna Limited Edition, Maserati and Zegna are embarking on a tour of four international events starting in Shanghai in July 2014 before stopping in New York (Sept 2014), Dubai (Feb 2015) and Milan (Spring 2015).

The events are designed to present the Quattroporte Zegna Limited Edition to an exclusive audience and to celebrate the partnership between the two Italian brands; both of whom are masters in Italian excellence. The exclusive event locations have been carefully selected to enhance the uniqueness of the alliance and represent the pinnacle of Italian elegance. Guests will be able to discover the car's premium finishes in detail and see the extraordinary result of the partnership.

World famous Italian photographer, Fabrizio Ferri, will be in attendance at each of the four events capturing 100 unique images – 25 from each occasion. Among the guests will be musicians, chefs, athletes and artists, who will have their hands photographed representing the 'handmade' notion of the limited edition.

The collection of pictures will be put together to create a book; "One of 100" which will be presented in Milan in Spring 2015. As well as the hand photographs, the book will also contain stylish interior and exterior photography of the Quattroporte Ermenegildo Zegna Limited Edition. The book will emphasize the uniqueness, exclusivity and excellence DNA of the two brands.

To mark the importance of heritage and handmade work for the two brands, Maserati and Zegna will be the first companies to support the restoration of the Fountain of Neptune; a monumental fountain located in Piazza Nettuno, in Bologna, where the Trident badge was first inspired.