Maserati releases the first images of the new Ghibli Granlusso version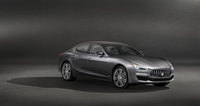 The new Ghibli GranLusso, as shown in the first images revealed by Maserati, will make its debut at the Chengdu Motorshow, in China, on August 25th. After four years of unprecedented success in all the international markets, the Italian sports sedan gets an important upgrade in terms of design and technological contents.
The new Ghibli GranLusso showcases a new front bumper with dedicated chrome inserts and new front grille with chrome bars, in line with the latest Maserati models style signature. In profile, the GranLusso badge at the bases of the front fenders and body colour side skirts, identify the specific version. The new rear bumper, together with the body colour rear extractor, is elegantly redesigned to give a sharper look to the model compared to the previous version.
The new Ghibli GranLusso design isn't just about the look: the restyling contributed to a substantial improvement of the aerodynamic efficiency. Together with the exterior restyling, the new Ghibli GranLusso introduces important features such as Adaptive full LED Headlights with glare free Matrix High-Beam for a distinctive look and even better illumination. New active ADAS functionalities are also available in the Ghibli GranLusso, allowing Maserati to enter the world of autonomous driving.