Romance under the stars in a classic country setting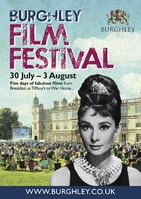 Tom Cruise and Patrick Swayze have proved superstar soaraways in Stamford – with movie tickets for Top Gun and Dirty Dancing a sell-out at this summer's Burghley Film Festival.
But while the Saturday night double bill might now be sold-out, there is still a chance to have a date under the stars with Audrey Hepburn or Ryan Gosling… with England's greatest Elizabethan house providing the romantic backdrop.
One of the country's most beautiful cinema locations is back this summer as the picturesque South Gardens at Lincolnshire's Burghley House is transformed into a magical open-air venue.
Five nights and four days of fabulous films (30 July to 3 August 2014) offer the chance to watch everything from the acclaimed 'War Horse' to Monty Python comedy 'The Holy Grail'.
But on the opening Great Romantics night (Wednesday, 30th July) where better to have 'Breakfast at Tiffany's', starring screen legend Audrey Hepburn and Hollywood leading man George Peppard, than in the classic setting of an English summer garden?
If that's not enough, the second screening is 'The Notebook' with Ryan Gosling and Rachel McAdams. One of the 'weepiest films in Hollywood', it offers a chance to relive that sizzling onscreen romance – and banish recent behind the scenes talk of off-screen rows!
Even better, early bird tickets are still available, saving £2 on the gate price. Until 29 July, tickets are £10, while on the gate tickets cost £12. Child tickets are £4, in advance or on the day.
To go along with the fabulous films, Burghley will also be offering fabulous food.
During all screenings, the Great British Barbecue will have summer outdoor favourites, with all the meat sourced from local producers, while summer nights would not be complete without jugs of Pimms. Also on sale will be cold beer, wine and cocktails.
For full details of all the movies, and to book online tickets, visit burghley.co.uk.