New website showcases premier watersports destination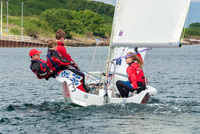 A new interactive website has been launched to showcase one of the UK's premier watersports destinations that benefits from the warmer waters created by the Gulf Stream.
Watersportscoast.com is a one-stop website with detailed information about 12 different watersport activities around Ayrshire and Arran on Scotland's west coast, including yachting, dinghy sailing, kite surfing and sea kayaking.
Created by the Ayrshire & Arran Tourism Team, the website provides a wealth of information for enthusiasts who are seeking new experiences on the water. From the coastal areas around mainland Ayrshire, to the islands of Arran and Cumbrae, the area provides fantastic opportunities to access the popular waters of the Firth of Clyde and on to the Irish Sea. Located on the Gulf Stream, the waters are surprisingly warm (with some reporting them to be warmer than off the coast of South Africa) and palm trees flourish in some areas as a result.
Watersportscoast.com provides information about over 60 key coastal access points, beaches, slipways, marina facilities, and moorings. Tide times, weather forecasts, nautical charts, nautical mile plotting, and truly interactive mapping, are all available making the website ideal for those visitors seeking to immerse themselves in new experiences both on and off shore.
This level of watersports mapping is the first of its kind for a Scottish region and was made possible as a result of the joined up approach of the Ayrshire and Arran Tourism Team, which worked in partnership with the local providers, the Firth of Clyde Forum, Scottish Natural Heritage and RYA Scotland.
Speaking on the launch of the website Carolyn Elder, Largs Yacht Haven Manager and Ayrshire & Arran Tourism Leadership Group Member said: "This is a great development in providing information specifically for watersports enthusiasts. It will really show off the amount of watersports opportunities in Ayrshire and Arran and make participation more accessible."
Project Officer, Graeme Maciver added: "Now visitors who have a passion for yacht cruising, a competitive edge dinghy sailing, or who simply want to enjoy stunning scenery can get on-board to discover Watersportscoast.com and the beautiful coastal areas of Ayrshire, Arran and Cumbrae."