Renault ZOE electric wall-box deal stays fully charged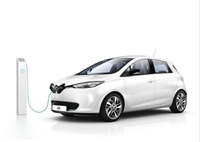 Renault was the first manufacturer to offer a free domestic charging point with a new fully-electric car, and it looks like it could be the last.

The French brand, currently celebrating a 60% year-on-year increase in sales, has moved quickly to reassure all new ZOE supermini owners that its free wall-box promotion, worth over £200, still stands, despite changing offers in the rest of the market.

Already the undisputed leader in European electric vehicle sales, Renault is also offering ZOE customers an ice-cream melting £2,750 deposit contribution on all new purchases as part of the recently launched Renault Summer Season.

Combined with the Government's still-live plug in grant it means there has never been a better time to own the stylish 100% electric compact – available from just £174 per month including £45 per month mandatory battery hire.

'Drive the change'

Renault's flagship plug-in, which has been turning heads on the UK's streets since last June, is one of the UK's most affordable electric cars – starting at a recommended retail price of £13,995 (after UK Government's Plugged in Car Grant) but costing less than 2p per mile to run.

It boasts the longest NEDC range of any mainstream electric car at 130 miles, and its five star EuroNCAP score ranked it the safest supermini last year.

Unlike some rivals who require users to shell out on a charging solution, Renault is still including a 7kW wall-box, which charges ZOE from zero to 100% in three to four hours, for free at domestic properties in the UK – worth £214.

Add all of these savings up and a typical ZOE buyer could be thousands of pounds better off, even before taking into account the associated Benefit-in-Kind, road tax and congestion charge benefits of running an electric vehicle.

British Gas will install a 32 amp (7kW) ZE ready single wall-box with all new purchases, and have it fully operational ready for owners to charge their eagerly-awaited pure electric ZOE at home for the first time.

Renault believes that around 90% of charging will take place at home, with ZOE's battery able to be charged from completely flat to fully charged in just three and a half hours, while ZOE can also be fast charged to 80% of its capacity in just 30 minutes using public rapid-charger 43kW power sources, of which there are already over 150 around the country.

The single wall-box can be installed at any UK residential address with an O2 data signal, and has an attached lead, meaning that drivers don't have to delve into the boot at night to find the cable to plug in. The cable is 4.5 metres long, ensuring that even customers with off-street parking will be able to charge their ZOE easily.

'Peace-of-mind'

Making the switch to electric motoring does not have to be complicated. In fact, one of the greatest benefits of choosing a ZOE is peace-of-mind. The battery hire contract includes a battery performance guarantee, whereby if, for any reason, its operation falls below 75% of its original capacity, it will simply be repaired or replaced, regardless of the vehicle's age or mileage.

In the unlikely event that a customer runs out of charge, cover is also included to take them to a chargepoint. Renault has a national network of EV-ready dealerships, every one of which has charging solutions, and the national network of charging points is growing by the day. For full details, see renault.co.uk/chargemap.

For lower mileage retail customers, a battery hire deal on all new ZOE orders starts from only £45 per month. When taken over a three-year term, based on 3,000 miles per year, it offers a real cost-effective alternative tailored to those doing shorter journeys on a regular basis.

After all this, customers will all still benefit from the comprehensive Renault 4+ package, worth over £1,000, which includes 4 years/100,000 miles warranty and roadside assistance.

For more information, visit renault.co.uk/ZOE.