Closer to the action than ever before: Mercedes-Benz launches 360 degree app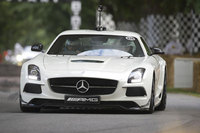 Mercedes-Benz has launched its most interactive and exciting iPad app yet – bringing together pioneering 360 degree footage shot this summer at the Goodwood Festival of Speed.

Available for free via the Apple App Store – simply search for 'Goodwood' – the app is the most advanced of its kind.

For the first time, the 360 degree cameras have been mounted on the crash helmet of a driver as Anthony Davidson drives a Mercedes AMG Petronas Formula One car up the Goodwood Hill. The footage allows a unique vantage point and brings you closer than ever before to the feeling of being behind the wheel of a Formula One car.

Using the clever gyroscopic sensors mounted inside the iPad, the app allows you to control how you watch the footage – tilt the iPad up and the camera angle changes, look behind you and it reacts accordingly. Likewise, the sound was recorded using directional microphones, meaning the sound levels change depending on where you direct the iPad.

Along with the Mercedes AMG Petronas Formula One car, cameras were mounted on a W 125 Silver Arrow driven by Roland Asch, the mighty Sauber-Mercedes C 9 and an SLS AMG Black Series. You can also track the build of the soaring Goodwood sculpture in a clever, 360 degree time-lapse film.

A total of 11 interactive 360 degree Mercedes-Benz films are now available via the App Store – the footage suitable to be used on Oculus Rift virtual reality devices, as was the case at the Goodwood Festival of Speed where visitors were able to experience the immersive technology for themselves.