Beachside bar and rooftop movies - summer has popped up in East London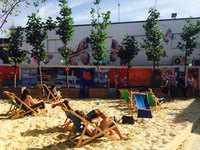 Grab your deckchair for a pop-up summer in London's East End – complete with beach, palm trees and rooftop cinema with sunset views over the Queen Elizabeth Olympic Park.
Two new pop-up venues have sprung up in Stratford to offer visitors a seaside summer in the heart of the city.
The newly opened Print House bar and kitchen – on the bank of the Three Mills Walls River, off High Street, Stratford – launched its pop-up beach at the weekend (19 and 20 July).
Complete with a sandy beach, deck chairs, palm trees, a tiki bar and a summer BBQ, the canal-side beach, set on the outdoor terrace of the recently converted restaurant and bar, has free entry for the duration of summer. (theprinthousebar.co.uk).
And just a few minutes walk away is London's newest rooftop bar, cinema and urban park… on an empty rooftop car park.
Roof East is the new open air urban haven for those seeking great food, a classic film or to simply enjoy a beer or ice cold cocktail, whilst watching the sunset over the city and Queen Elizabeth Olympic Park.
Located in the heart of Stratford, opposite Stratford Station and Westfield Shopping Centre, the rooftop venue also hosts London's favourite outdoor cinema, the Rooftop Film Club, until September 2014. It will show a variety of modern and classic films every Tuesday to Saturday for audiences to enjoy from the comfort of their very own deck chair. The Roof East bar will also open every Tuesday to Sunday, (roofeast.com)
For more information about spending time in Stratford, London, visit stratfordlondonapp.com.