Pitch up in style this summer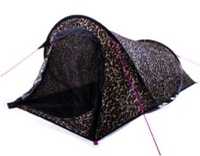 You've picked up tickets for this summers hottest festival, chosen the outfits and sunglasses but what about a tent that won't cramp your style? Make the most of the great outdoors with the Highplains Pop up Two Man Tent from The Bedding Company, the stylish and simple answer to camping this summer.
With two designs to choose from, Vintage Floral, Camouflage and Leopard, it couldn't be easier or faster to set up camp. Simply remove the tent from the zip up bag and the internal pole system will allow the tent to pop up itself, from bag to fully assembled in seconds. The outer waterproof coating will keep the rain on the outside, whilst the inner mesh will keep out any nasty bugs. The tents come with a same-design carry bag, steel pegs and ropes.
Ideal for any glam camping trip , the Highplains Camping Pop Up two Man Tent is great value for money at £30.99 - simply find your perfect spot and pitch up in style this summer!
Continue the glamour and pair up with a matching Highplains Sleeping Bag for only £20.00 and rest those wellie-worn feet with a Floral Camping Chair for £15.00.
All available from leading online bedding shop, The Bedding Company, at thebeddingcompany.co.uk.