Amphibious mountain holidays for everyone all year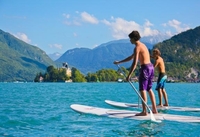 Indoor or outdoor, winter or summer, holidaymakers are spoilt for choice when it comes to aquatic activities in the mountains of France. All tastes are catered for in the idyllic realms of spa and wellness, while the ever-increasing range of water-sports on offer in the mountain lakes make for an intriguing summer holiday alternative to the coast.

Find out what's new in water-world in the mountains of France this summer, and take a look at our top picks for getting wet, kicking back, or getting in shape this summer and next winter.

New for 2014

The big news this summer is last week's inauguration of Châtel's fabulous new Forme d'Oaquatic centre, which is open all year. There's something for everyone here, with indoor and outdoor pools, 3 saunas, 2 hammams, extensive fitness and beauty treatments facilities as well as a huge range of fun activities and equipment for kids.

Best for kids

Avoriaz's indoor waterpark Aquariaz is a real oasis for all the family, with a plethora of slides and areas to explore, and complete with natural tropical vegetation.

Maximum relaxation
The water at the 3000m² Bains de Couloubret baths in Ax les Thermes are geo-thermically heated to between 33 and 38°C. The facility is bursting with geysers, fountains, and hydro-massage jets- an ideal tonic to a hard day in the mountains.

Get in shape

Brides les Bains is not only part of the 3 Valleys- the world's biggest ski area, it is also a world renowned slimming spa resort. Whether you just fancy a putting your feet up and getting pampered, or if you want to take part in a world class programme to lose weight, improve your health or work on your fitness, Bride Les Bains has a great option for you.

Best for watersports

Lake Annecy Ski Resorts groups the charming mountain villages of La Clusaz and Le Grand Bornand, both within a stone's throw of the idyllic Lake Annecy, where the full range of water-sports and aquatic activities are available in a stunningly picturesque setting. New for 2014 is the addition of Stand-Up-Paddleboarding, also available to try in Tignes and Areches-Beaufort.

In the Pyrenees the resort of Les Angles, on the shores of beautiful Lac de Matemale, is a superb spot to combine the best of a summer mountain and beach holiday. The lake itself has stunning beaches and a raft of water-sports on offer, while the mineral enriched hot springs are great for your health and well-being.
For more information, visit rendezvousenfrance.com.