Taiwan's Sun Moon Lake International Fireworks and Music Festival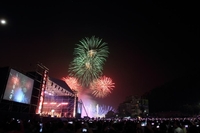 One of Taiwan's hotly awaited annual festivals is fast approaching. The Sun Moon Lake International Fireworks and Music Festival will be held from 17 October to 9 November 2014. Held annually every October and attracting visitors from all over the globe, the event will be taking place on the shores of Taiwan's largest freshwater lake and one of the country's 13 national scenic areas, Sun Moon Lake.

The idyllic Sun Moon Lake comes alive with the adornment of dazzling firework displays and energetic music every year as part of celebrations for holidaymakers and 2014 promises to be equally captivating when the festival kicks off in October. Co-hosted by The North Face, Taiwan Mobile and Sun Moon Lake National Scenic Area Administration the month-long festival is free to all visitors and will play host to musical performances, orchestra pieces, dance acts and cinematic productions. This year's acts include performances from Philharmonia Moments Musicaux, Hsin Chu Wine Orchestra, Butterfly Orchestra and The Power Band.

In addition to its musical festivities, Sun Moon Lake is a popular tourist attraction located in Nantou County. The lake gets its name from the shape of its eastern part, shaped like the sun, and its western part, shaped like a crescent moon. The area surrounding the lake has many trails for hiking and cycling, perfect for adventure enthusiasts. It offers a range of leisure options making it a popular holiday spot, also amongst locals. Steeped in history, the area around the Sun Moon Lake is home to the Thao tribe, one of the aboriginal tribes in Taiwan. The main cultural attractions include the Xuanguang Temple, Xuanzang Temple and the Cien Pagoda.

For more information, visit 2014musicfestival.com.tw.