Special season heralds arrival of The Inbetweeners 2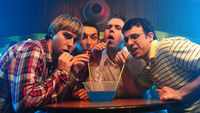 The Inbetweeners 2 opens in cinemas across the UK & Ireland on 6th August and in the run up, why not relive your favourite moments with the fab four on the small screen?
Channel 4 & E4 will air a special season of programming from 2-5th August getting everyone in the mood for this year's most anticipated comedy.
On Saturday 2nd August, enjoy The Inbetweeners Movie, the most successful comedy of all time at the UK box office (taking over £45million in 2011). Tune into Channel 4 at 9pm to catch a special introduction from Blake, James, Joe & Simon.
On Sunday 3rd August, round off your weekend in Inbetweeners-style with brand new programme The Inbetweeners Go Global, which includes interviews with cast, crew & celebrity fans alongside a sneak peak at The Inbetweeners 2,. This will be followed by the top 5 episodes of The Inbetweeners, as chosen by e4 viewers.
Finally, on Tuesday 5th August you can catch the cast's favourite episodes on E4 at 10pm. Blake, James, Joe & Simon have each picked their favourite episode, and will be explaining their choices in specially recorded introductions.