Animate your Peugeot 108 with creative new 3D and virtual reality app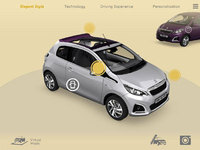 The 108 is Peugeot's chic and sophisticated new city car, bristling with state-of-the-art technology… so what better way to unlock its potential than with the amazing 'New 108 in 3D' app.

Available to download to smartphones and tablets, it allows users to explore every aspect of the 'high-on-style' three and five-door urban runabout, then share favourite designs with family and friends.

With eight vibrant body colours and three roof colours for Peugeot 108 buyers to choose from – plus an appealing range of dashboard designs, exterior decals, theme kits and accessories – the Peugeot 108 takes small car desirability to a new level.

The 'New 108 in 3D' app is the perfect tool to design your perfect car. Featuring more than 5,000 personalisation options to select from, each is brought to life in in playful 3D animation and can be viewed from every exterior and interior angle. Once your New 108 is completed, you can even experience it in pop-out virtual reality.

You can use the app to:
Explore the full range of New 108 personalisation options
Rotate your vehicle for a full exterior view of the stylish design and specification
Switch between the New 108 TOP! Cabrio and Hatchback models, with driving animations
Step inside and enjoy a full 360-degree interior view with interactive hotspots to explore
Take a photo of your virtual New 108 and share it with family and friends
Explore the New 108 photo and video gallery
Find your local Peugeot Dealer
Download a New 108 brochure and book a test drive

Peugeot's 'New 108 in 3D' app is free to download and available on the App Store for iOS devices and Google Play for Android devices.

The New Peugeot 108 is on sale now at Peugeot Dealerships. Prices start at £8,245 on the road for the 108 Hatch 1.0-litre Access three-door. Active models begin at £9,495, Allure at £10,995 and Feline at £11,845. The 108 TOP! is priced from £10,345 for the 1.0-litre Active three-door, rising to £12,245 for the 1.2-litre Allure five-door.