Malaysia arrives in London's Trafalgar Square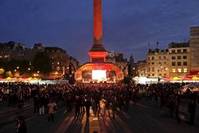 Malaysia Night, the eagerly anticipated free festival celebrating the very best of Malaysian cuisine and culture, arrives back in London's Trafalgar Square on Friday September 26th.
The popular festival, returning for the fifth year, will see Trafalgar Square transform into a bustling marketplace, complete with the vibrant sights, smells and sounds of Malaysia.
The event embraces and celebrates the uniqueness of Malaysia and showcases the very best of the country to Londoners and visitors alike.
Over 20 of the UK's best Malaysian restaurants will showcase their authentic gastronomic delights for visitors to buy, from already popular dishes such as Laksa and Satay through to the more unusual such as Ais Kakang, a delicious red bean iced dessert.
Along with the chance to sample dishes from these restaurants, there will also be a series of live cookery demonstrations taking place throughout the event from well-known and respected chefs. Visitors will also enjoy live entertainment from singers, dancers and DJ and be able to view art from up and coming Malaysian artists.
Additionally an authentic bustling Malaysian marketplace, offering ingredients such as sauces, spices and pastes for sale, will give Londoners the opportunity to recreate authentic tasting dishes at home.
Event Details:
Event: Malaysia Night
Location: Trafalgar Square, London
Cost: Free entry
Date: Friday 26th September 2014
Time: 12:00 – 22:00 - stage entertainment from 17:00
Age Restrictions: N/A
Nearest Underground Stations:
Charing Cross Tube (2 minutes)
Leicester Square Tube (3 minutes)
Piccadilly Circus Tube (6 minutes)
Visit: malaysiakitchen.co.uk to find out more about the event.