Thousands take to the water in Hampshire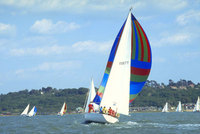 With participation in water sports at its highest in Britain since before the recession, and the current hot spell encouraging even more people to take to the water for the first time, Hampshire is staking its claim to be England's finest water sports destination.
This summer, more than a quarter of a million people are expected to watch or take part in five major water sports events taking place on, in and around the Solent - the unique natural maritime playground between Hampshire and the Isle of Wight.
First of the five is the Isle of Wight's international Cowes Week, a key event in the British sporting calendar that starts this Saturday (2-9th August) and is expected to attract over 100,000 people. Other events include the Southampton Maritime Festival taking place at the end of the month (22-23rd August) and the National Watersports Festival on Hayling Island from 5-7 September, the Grand Prix of the Sea, Gosport 6-7 September and finally the Southampton Boat Show taking place from 12-21 September, expected to attract over 112, 000 visitors.
Recent research conducted by Arkenford in association with the British Marine Federation, the Royal Yachting Association, the Maritime Coastguard Association, RNLI, British Canoe Union and Marine Management Organisation suggests that water sports participation is the highest since 2007 with 14 million adults taking part in some kind of water based activity today.
Andrew Bateman, Visit Hampshire comments; "Water sports enthusiasts rate the Hampshire coastline as one of the best in Europe to ride, swim and sail. During August and September in particular, we host some of the most exciting and adrenalin pumping water related events that there are in this area which also draws in hundreds of thousands of visitors and generates a major investment for the county."
For more information, visit visit-hampshire.co.uk.